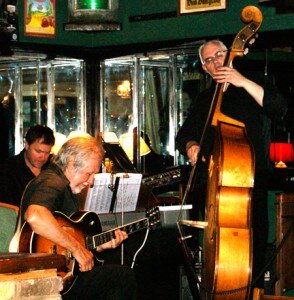 Ramsgate Seaside Shuffle is to launch its 2012 Autumn Season on Saturday, 27th October, with an star performance by the dynamic John Myhill Quartet. And what better venue for a seaside jazz gig than the historic Ramsgate Small Boat Owners Club.
During the Seaside Shuffle Festival in July The Quartet premiered at the Belgian Cafe adjacent to Ramsgate Harbour to the delight of festival fans and enthusiastic holiday makers. They have since been invited back to the cafe for repeat performances.
So be sure to shuffle on down to the Small Boat Owners Club on Saturday 27th October for a jazz packed evening!
Tickets
Pay at the door or to book by post:
Cheques payable to 'Ramsgate Seaside Shuffle' with SAE to
John H Morgan,
20 St Clements Court, Canterbury Road,
Herne Bay, Kent CT6 5RT
Tel: 01227 361238
(Photos © Peter M Butler, Jazz&Jazz)
Please follow and like us: