Welwyn Garden City's Peartree Jazz Club welcomed Dennis Vick's Fenny Stompers back for a rip roaring evening of grade A jazz and fun on Monday, 17th September.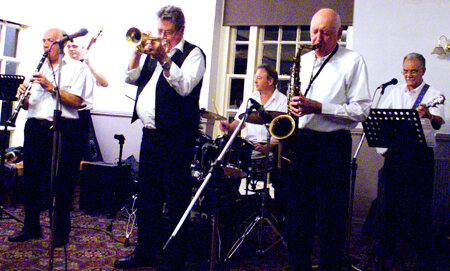 This time around the band included three guest musicians, Ken Sims on cornet, famed for his days with Acker Bilk's Paramount Jazz Band, John Pinkerton of JP Jazz on saxophone and Andrew Hutchinson on his mellow toned electric bass.
Dennis was on his usual top form, putting his clarinet aside every so often to entertain Peartree fans with his wit and repartee. It has to be said, however, that his brother Brian on banjo is a match for him any day in the crooning department!
(Photos © Peter M Butler, Jazz&Jazz)
Please follow and like us: