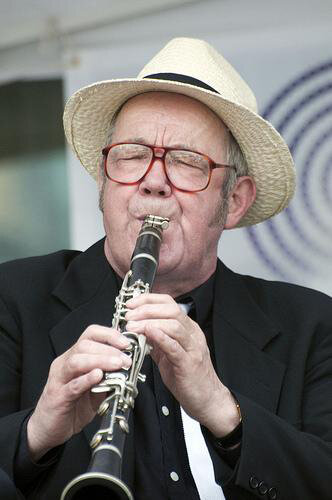 Jim joined Facebook as recently as 26th August this year and immediately sent me a friends request. Perhaps I should have heard of Jim via the jazz grape vine but I hadn't so I replied, "Tell me more about yourself, Jim, and your interests in jazz and music in general".
His reply is so stunning and well written, somehow even tying in with the theme of my "Analysing the Jazz Scene" article in Just Jazz magazine, that I decided I simply had to publish it word for word. So here goes …!
Hi Peter,
You've asked for it!
My mother loved music, and played piano enthusiastically. Her favourite repertoire was Bach, boogie, and Basie, with Gilbert and Sullivan as another staple. We sang round the piano, or the wireless was on. I suppose I was also influenced by Max Geldray and Ray Ellington on the Goon Show. Mum would also buy sheet music for current popular music if it took our fancy. Although she died when I was 15, my mother must take the blame for my musical obsessions.
Around 1955 I was hooked by early rock 'n roll – Bill Haley, Chuck Berry, Little Richard, Fats Domino, Carl Perkins, and Elvis Presley's Sun material. As the latter was released in this country after his first RCA hits, I thought he had improved, only to be disillusioned when reality emerged!
This exciting music was rapidly replaced by manufactured product, performed by callow teenage boys, and aimed at moonstruck girls, and I searched for something having a similar drive and excitement to the stuff I preferred. Humph's "Bad Penny Blues" suggested that there might be something in jazz, so I bought a copy of Rex Harris' "Jazz". Next came the purchase of 78s by Sidney Bechet, King Oliver's Creole Band, and George Webb's Dixielanders – and I haven't stopped buying records since. The 78s left my collection years ago as too much of a storage problem, but my collection has now reached about 16,000 albums and threatens, with my book collection, to overwhelm us completely.
Weren't all the "real" jazz players dead?
A few months later a friend, knowing of my interest, suggested I go and listen to the jazz bands performing during our
work dinner hour on Leeds Town Hall steps for Leeds student Rag Week. The thought that people were doing such a thing in Leeds had not occurred to me. Weren't all the "real" jazz players dead or unable to play due to loss of teeth? I went along, and was absolutely knocked out. You could do it yourself! I had already found my jazz idol – Johnny Dodds – and I HAD to have a clarinet and try it. Within a couple of months I had scraped up the deposit for a second hand Couesnon Boehm clarinet, and spent hours annoying my Aunt's neighbours with my struggles. Some months later I made contact with other developing musicians, a band was formed, and I have played in bands ever since.
For a time I, like many others, was very blinkered in my musical tastes. If it wasn't in the mid-twenties style of Oliver/Armstrong/Morton etc I dismissed it. Over the years I have developed an interest in a multitude of musical styles and genres. I bought an alto, quickly replaced by a tenor, and ended up playing for periods in a dance trio, a rock band, and in 1964 in a bluebeat group. Being me, I insisted that my contributions would be improvised and subject to change at my whim, and managed to get away with such an unheard of practice in those fields. I have continued to alternate between occasional forays into other musical fields and jazz, my main musical preoccupation, ever since.
At its best music can seem to suspend time
In the late 1970s I gradually started listening to classical music. I discovered that there was a difference in how this or that conductor or orchestra made music. In the same way that some jazz players move me in a way that others don't, a great performance of an opera or symphonic piece could be special. I have come to realise that what matters for me is to hear communication of emotion or feeling at a wide variety of levels and intensities, and to have my attention captured by a feeling that "something" has been brought out of a musical piece or work that I could not have previously imagined being there. At its best music can change my breathing rate, seem to suspend time, and create the illusion that I can "hear" rapid fleeting thought processes developing and changing.
"Better not overdo it but" …
Assuming that I like most of the "standard" favourite jazz players, here is a list of some who I particularly enjoy:-
Johnny Dodds, Jimmie Noone, Johny Hodges, Harry Carney, Ben Webster, Lester Young, Buddy Tate, Louis Jordan. A special mention must go to a local musical hero, trumpet player Jim Fuller. Unfortunately Jim can no longer play due to a condition that makes his hands and fingers difficult to manipulate, but most who heard him would agree that his playing was exceptional. I was privileged to play alongside him for a number of years
And bands: A.J.Piron, Oliver, Morton, New Orleans Wanderers, Missourians, Jabbo Smith, Ellington, Basie, Mingus.
Outside jazz:-
Professor Longhair, Fats Domino, Huey Smith, Roosevelt Sykes, Howlin' Wolf, Frank Zappa, Sir Thomas Beecham (I don't care if it's "Three Blind Mice", if he is conducting I want to hear it), Maria Callas, Natalie Clein.
Outside music I spend time on astronomy and transport history.
Hope this begins to respond to your query.
Jim.
This more than begins to respond to my query, Jim. You've added a series of whole new dimensions to the debate I'm attempting to open up on the past, present and future of jazz In my above mentioned Just Jazz article. Thank you so much for the time you've taken over your in depth reply and for sharing with us such an eclectic choice of music.
Please follow and like us: