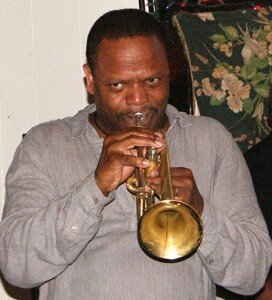 'Legendary jazz trumpeter Leroy Jones is known to music lovers as the "Keeper of the Flame" for traditional New Orleans jazz and to critics as one of the top musicians ever produced by the Crescent City.' (Spirit of New Orleans Productions)
Leroy is also featured on the Preservation Hall Jazz Band site.
I got to meet the "Keeper of the Flame" at Donna's Bar and Grill on Rampart Street, New Orleans, in April, 2010, before its temporary closure. I asked him if I could take a series of photos of the band and upon showing him some samples of my jazz portraits, he graciously agreed, though I doubt he remembers me amongst his throng of fans.
And I've still to complete his jazz portrait!
So I thought it high time I featured Leroy on Jazz&Jazz along with the photos I took at Donna's Bar and another which I took of him in a trumpet duet with legendary music man and song writer supreme, Dave Bartholomew, at Nina's Palm Court Jazz Cafe on Decatur Street.
I'll get to that portrait of Leroy, promise!
Meanwhile, take a look at my acrylic portrait of Dave Bartholomew.
Donna's Bar & Grill back in business!
Not to be missed when in New Orleans: The Palm Court Jazz Cafe on Decatur Street.
Peter M Butler
Editor & Proprietor Jazz&Jazz
(Photos © Peter M Butler, Jazz&Jazz)
Please follow and like us: