Dare I announce this event to Traditional Jazz Fans? Yes, indeed I do dare because it follows hard on the heels of my article in the August issue of Just Jazz magazine: "I want to play like that!" Analysing the Jazz Scene – Past, Present and Future".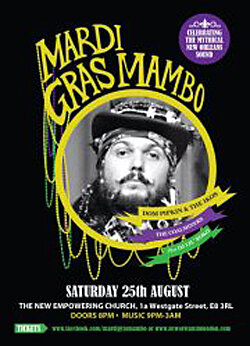 So over to Dom Pipkin to announce his Mardi Gras Mambo in his own words. And despite the Rhythm n Blues, note his references to Professor Longhair and James Booker.
"Kind grooving folk,
"You may remember a night not long ago, when a warehouse in East London was filled to bursting point with New Orleans sounds of the highest order, where sizzling Rhythm n Blues met funky grooves in a most joyous marriage…well, for those who missed Mardi Gras Mambo in May, we're doing it all over again on Aug 25th!
"Back at our spiritual home, the New Empowering Church, Westgate Street, London E8 3, we go head to head with Carnival fever for the swampiest after party this side of Bourbon Street.
"Headliners Dom & The Iko's bring forth storming New Orleans R&B headed up by piano virtuoso Dom Pipkin. Conjuring up the spirit of Professor Longhair and James Booker, this band's piano-driven grooves drive deep into the heart of this infectious RnB sound. Combining wailing saxophones and savage piano playing this band evoke the honky-tonk bars of notorious old Bourbon Street – one of the most compelling live RnB acts around.
"On support – The Coalminers! Delving deep into the pocket of funk – this band to fully dedicate themselves to the New Orleans Soul and Funk sound in the UK, building up a reputation of delivering their very own authentic Swamp Soul!
"Live and wild on the decks, resident Voodoo Queen DJ Lil' Koko wields her stash of New Orleans vinyl-expect obscure Rhythm n Bues, funk and swamp infested brass till the wee, wee hours
"Come hungry, leave Soulful
"Jambalaya- Authentic Cajun delicacies to feast and fuel these late night frolics."
On the Door:
£8 before 10pm
£10 for the late and loaded
But What About the Jazz, you ask?
Be assured, I have heard Dom play the very best of  Trad. It was Tony Rico, his saxophone player, who told me of his love for New Orleans Traditional Jazz. Yet at the time he was writing hip hop music. "I have to mix it, Peter, if I'm to make a living from my music!" Just as Dom himself has to mix it.
As I say in my "Analysing Jazz" article:
"All need not be lost. The potential for a traditional jazz revival is there to be seized upon if only the "oldies", bands and fans alike, would lift their eyes above their parapets! The key is in emerging younger bands …… making their mark in New Orleans style.
"Take  London based Dom Pipkin & The Ikos. Dom runs regular New Orleans Workshops and Jam Sessions at The Alleycat in Denmark Street and he recently staged a very successful Mardi Gras event in Hackney. Younger musicians who attract younger fans, and yes, I mean young fans! They mix it a bit but trad jazz predominates. Dom recently appeared on Later with Jools [and more recently on Andrew Lloyd Weber's Superstar] as piano accompanist to up and coming songstress Pamola Faith. That way he makes decent money to help support his passion for real jazz.
"At present these younger bands are following their own "routes to market". Somehow there has to be a meeting of minds. A coming together of older and younger generation bands. Only then will "what goes around come around" as the older bands interact with younger bands to reinvigorate traditional jazz until it flourishes again."
Brian Smith and I spent an evening with The Ikos at The Alleycat back in May. Brian (aka "Smiffy) runs The Peartree Jazz Club in Welwyn Garden City, and at the end of a great session he said: "I'd book them! Of course I'd ask them to concentrate more on Traditional Jazz even if they mixed it a bit and I'd tell our fans they'd be in for a treat!"
So if you are in the vicinity, why not get down to the Mardi Gras Mambo at the New Empowering Church on 25th August?
Please follow and like us: