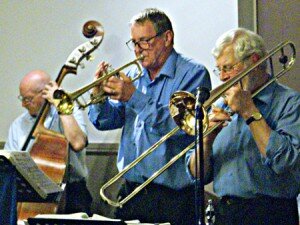 The Peartree Monday Jazz Club welcomed the Cambridge based Ouse Valley Jazz Band and Angela on their first visit to Welwyn Garden City on 18th June and what a welcome it was!
Peartree Promoter Brian Smith joyfully announced the club's highest ever turn out of fans and band leader Dudley Hedge and his gang were on top form – "ouseing" a full repertoire of traditional jazz from reeds, brass and percussion, with legendary Harvey Weston on bass, and accompanied by the dulcet tones of Angela – without doubt a formidable jazz singer.
Applause raised the roof and when, at the close of the evening, Dudley asked if the fans would have the Ouse Valley Band back, they answered as one: "Yes, if you'll play another two numbers!".
Visit The Ouse Valley Jazz Band's Website
(Photos © Peter M Butler, Jazz&Jazz)
Please follow and like us: