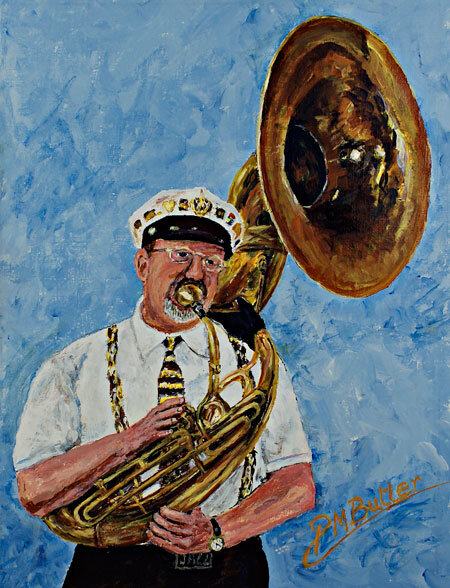 Jazz Painting of Pete Smith on Sousaphone. Jazz fans at the annual Ken Colyer Autumn Jazz Parade in Hemsby, Norfolk, rejoice in the solidly reassuring presence of Pete in the Umbrella Parades and in the increasingly popular jam sessions.
But how many know that besides his beloved sousaphone, he has also worn a chain of office as Mayor of Needham Market in Suffolk! Watch out for Pete. Come New Years', Summer and Autumn Festivals he is sure to be on parade. A certain winner for his commissioned acrylic jazz portrait.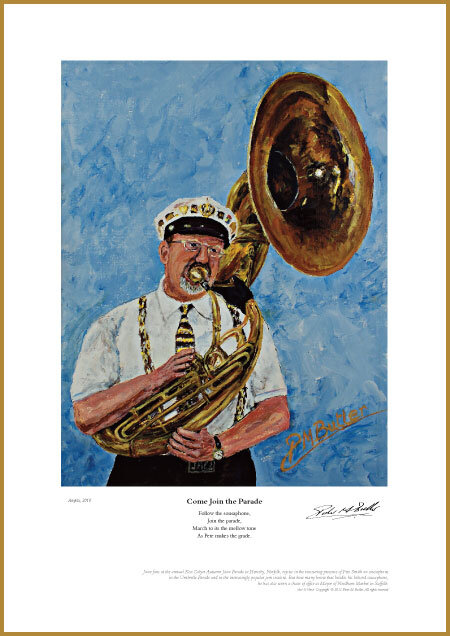 Art & Verse print of the Jazz Portrait of Pete Smith on Sousaphone.
Come Join the Parade
Follow the sousaphone
Join the parade
March to its the mellow tone
As Pete makes the grade.
Fine Art Giclée Prints of this portrait are available, with or without my descriptive poem. Simply email: [email protected] to place your order and help support jazz.
Please follow and like us: