All too  often the drummer is hidden back of stage behind the brass and the reeds, yet he carries the entire band with his beat. So when the Fenny Stompers opened ranks to give Dave Arnold centre stage I seized the opportunity to capture just the image I needed for my jazz painting of him in one of his full power drum solos. This is reflected in my Dave Arnold Jazz Portrait poem.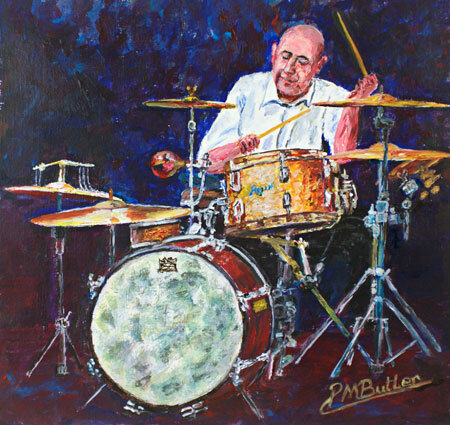 Jazz portrait of Dave Arnold setting the session on fire as he takes centre stage for a dazzling drum solo with Dennis Vick's Bletchley based Fenny Stompers at the Peartree Monday Jazz Club in Welwyn Garden City, Hertfordshire.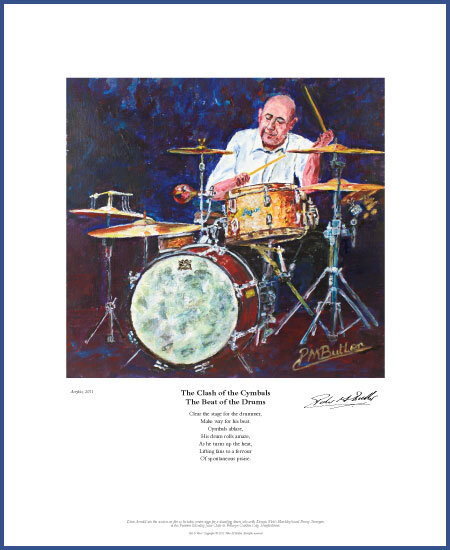 Art & Verse Fine Art Print of Dave Arnold on Drums
The Clash of the Cymbals
The Beat of the Drums
Clear the stage for the drummer,
Make way for his beat.
Cymbals ablaze,
His drum rolls amaze,
As he turns up the heat,
Lifting fans to a fervour
Of spontaneous praise.
Fine Art Giclée Prints of this portrait are available, with or without my descriptive poem. Simply email: peter@jazzandjazz.com to place your order and help support jazz.
Please follow and like us: