Fine Art Print of Jazz Portrait of Greg Stafford in Dew Drop Hall
Modern day stalwart of traditional jazz, blues and old time gospel music, in this jazz portrait New Orleans star Greg Stafford conjures up echoes from the past in a hypnotic performance at Mandeville's Dew Drop Hall.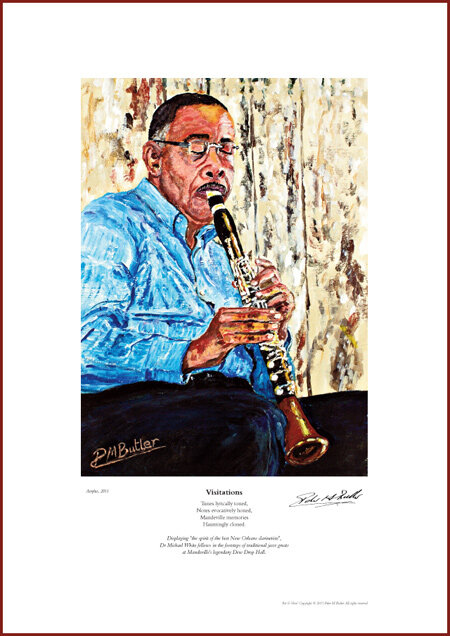 Fine Art Print of Jazz Portrait of Dr Michael While in Dew Drop Hall
Jazz portrait displaying "the spirit of the best New Orleans clarinetists". Dr Michael White follows in the footsteps of traditional jazz greats at Mandeville's Dew Drop Hall.
Echoes of the Past
At the time of writing this, two years have passed since I met two of New Orleans greatest living jazz musicians at legendary Dew Drop Hall, across Lake Pontchartrain in Mandeville.
The occasion was a farewell party for the 2010 Ken Colyer Trust French Quarter Tour Group. Along with Barry Martyn's band, Michael White and Greg Stafford entranced the audience of ardent fans with their hypnotic performances.
In the shadow of jazz greats like Kid Ory, Bunk Johnson, Buddy Petit and Louis Armstrong, these two deeply committed musicians conjured up echoes of the past and the very best of the spirit and legacy of New Orleans.
I count it a privilege to have painted their jazz portraits which were presented to them during the April 2011 Southern Sounds New Orleans Tour.
Jazz Art Details on Portrait of Greg Stafford
Jazz Art Details on Portrait of Dr Michael White
Jazz Art Details on Portrait of Barry Martyn
Please follow and like us: