Sunday, 19th September, 1.00pm sharp
Dave Rance describes his Bedfordshire based band as "a little different from the usual jazz bands, often amusing but always entertaining!"
Highly appropriate and spot on, Dave, and Lemsford Jazz Club fans will give you and the gang a resonating post lockdown welcome back to Lemsford on
Sunday, 19th September, 1.00pm sharp.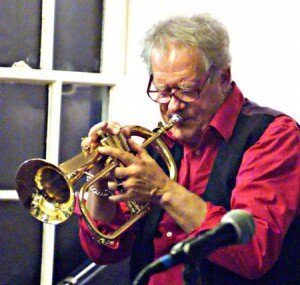 Dave on Flugelhorn
Earlier at Lemsford Jazz Club, a touch of Rockin' Chair Magic:
Thanks go to Brian Smith aka "Smiffy" for bringing live jazz back to Lemsford, Hertfordshire, despite the pandemic. Worldwide it may be but Jazz will overcome!
(Photo & YouTubes © Peter M Butler, Jazz&Jazz)
*** *** ***
Tel: Brian Smith ("Smiffy") on 01707 880569
Email: smiffy.jazz@virginmedia.com
Facebook: Lemsford Jazz Club
Please follow and like us: