Over Christmas I was delighted to hear from my
Japanese friend, Yoshio Toyama:
"Dear Peter,
"Thank you so much for making each article on Jazz&Jazz so nice!"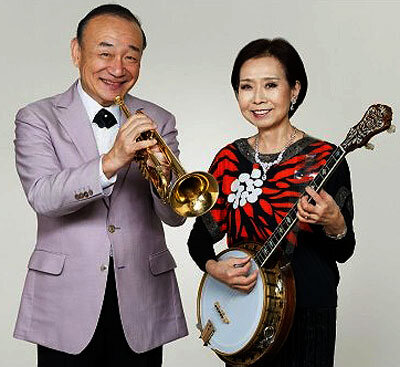 Yoshio asked a special request of me – to highlight his dedication to Jelly Roll Morton and his "Red Hot Peppers" based on his memories of them going way back to 1971.
Yoshio and Keiko founded "The Wonderful World of Jazz Foundation" in 1994 and celebrated its 25th Anniversary on 6th July, 2019, the anniversary Louis Armstrong's death.
Over the years the foundation has organised 70 jazz concerts and 20 Satchmo Festivals. It has issued 105 news letters, and organised the donation of over 850 musical instruments to youngsters in New Orleans, a $110,000 donation for Hurricane Katrina damage, and a $10,000 donation for the opening of New York's Louis Armstrong Museum plus the same amount to reopen the New Orleans Jazz Museum.
To celebrate the 25 years, the Toyamas decided to make CDs dedicated to Satchmo, New Orleans and other jazz greats.
It's been 19 years since the Dixie Saints last made CDs and although the Toyamas were not sure if they had chops even to cut just one CD, recording went so well they produced more than 55 titles between May and August, 2019.
Two new albums based on Satchmo and other Jazz greats were planned and released in August and October, 2019, plus a Jelly Roll Morton album, with guest pianist Butch Thompson, recorded in Japan in October, 2000.
Another new Disney CD will be released soon and will include "Louis Armstrong plays Disney numbers from 1968", plus hits from recent Disney Films such as Aladdin, Beauty and the Beast, Frozen, The Lion King and others.
As for the Jelly Roll Morton Album the story goes way back over 50 years. While living in New Orleans in 1971, Yoshio had written charts transcribing notes from 1920's
Jelly's Red Hot Peppers numbers for pianist Bob Greene.
With the Toyama's charts Bob formed Bob Greene's "World of Jelly Roll Morton Band" with Milt Hinton, Herb Hall, Tommy Benford (Jelly's drummer). It became a big hit at New Port Jazz festival, 1972. Also the band played a Carnegie Hall concert on January 15, 1977.
The New York Times published the day before:
"Jelly Roll Morton, the legendary New Orleans jazz pianist, composer of "King Porter Stomp", "Wolverine Blues" and "Doctor Jazz", band leader and raconteur, never played at Carnegie Hall. But tomorrow night his music will take over the auditorium in a program inspired by a group of Danish musicians, implemented by a Japanese cornetist on a visit to New Orleans and organized by a pianist and a onetime radio documentary writer whose life is now devoted to the study and presentation of Mr. Morton's music."
https://satchmo.up.seesaa.net/image/The20Sounds20of20Jelly20Roll20Live20Again.pdf
"When Wynton Marsalis and his Lincoln Center Band recorded "Mr Jelly Lord" around 1998, Yoshio was playing regularly at Tokyo Disneyland, Adventure Land, and in New Orleans Square with first class jazz musicians including Jimmie Smith, ex Ella's and Errol Garner's drummer. Other members included Mike Reznikoff on drums whose father was Misha Reznikoff, modernist painter active in late 1930s, and Mike's mother, famous photographer Genevieve Naylor. They had jazz parties at their house … Willie the Lion, Bud Freeman, Wild Bill, and Buck Clayton …
all these musicians came along. Other musicians joined us playing Louis, Bourbon Street and so on. Five sets a day, five days a week!
"Also circa 1998 we discovered the Lincoln Center was planning a series of concerts for two years until the Louis Armstrong bicentennial (2000/2001). We thought we should do something like that in Japan too.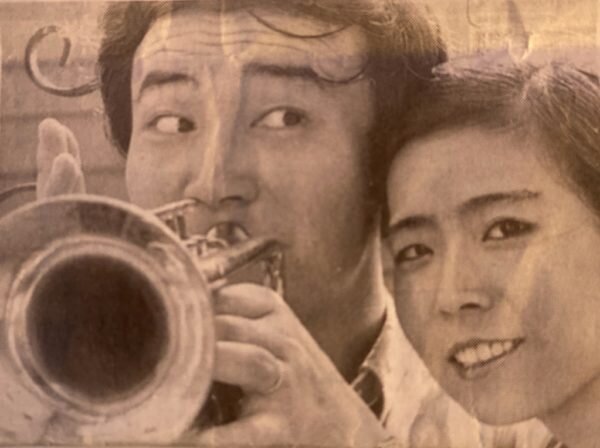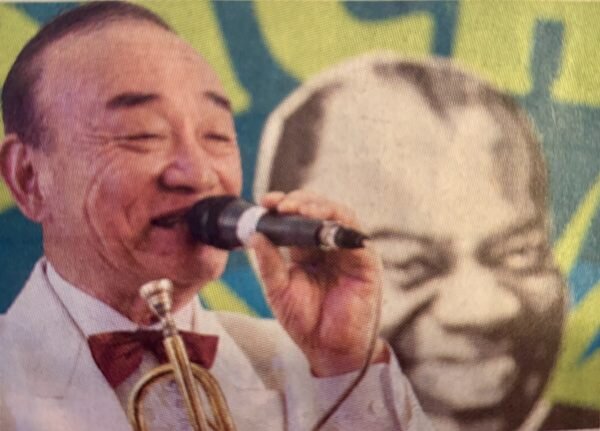 So we launched our concert series:
'Trips to the Earliest Days of jazz'.
A Jelly Roll concert was one of the series. Back then we played five days, five sets a day at Disney Land and had only two days off. One day was a concert and another day we recorded all day cutting 16 tracks! We were young! Butch Thompson, another recognised Jelly Roll enthusiast joined us. We didn't release a CD until the 25th Anniversary of our Foundation.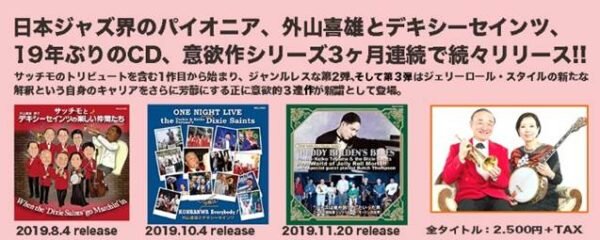 "Last summer we made the first CD – "Satchmo and FUN numbers of the Dixie Saints" on 4th August, our tribute to Louis Armstrong's on Pops' birthday!"
CD number two – "One Night Live" – with the Dixie Saints – KONBANWA (Good Evening Everybody) came in October. For all the jazz greats we met in those 50 years … George Lewis, Duke Ellington, New Orleans People, music for churches, funerals, parades, Preservation Hall and Jazz Pioneers. Even for Art Blakey whose Jazz Messenger hits were HUGE in our
high school days!
Then "Buddy Bolden's Blues" in November.
Our musical tribute to Jelly Roll Morton, using charts I had written in 1971 for pianist Bob Greene, who made it to a Carnegie Hall Concert via the charts.
"We are planning to make just one more CD:
"Mr & Mrs Japanese Satchmo Play Disney Songs"!
It will be released soon.
A Yoshio Toyama exclusive for Jazz&Jazz©
Please follow and like us: