Adrian Cox (clarinet), Joe Webb (piano), Gethin Jones (drums), Simon Read (double bass).
Adrian is featured in the above Jazz&Jazz YouTubes celebrating the music of Louisiana born clarinetist Edmond Hall based on his 1941 hit album "Profoundly Blue".
(Filmed at Tad Newton's Walnut Tree Jazz Club, Blisworth.)
"At the age of 36, Adrian Cox is already an artist with a story to tell. If you were to describe Adrian's playing in just one word you might say – hot."
(Adrian Coxwww.adriancoxmusic.net)
Jazz&Jazz Art …
Flashback to my Jazz&Jazz Portraits
Before filming Adrian, I seized the opportunity to paint my "double take" acrylic portrait of him on stage at the Hemsby Autumn Jazz Parade in
Norfolk circa 2012.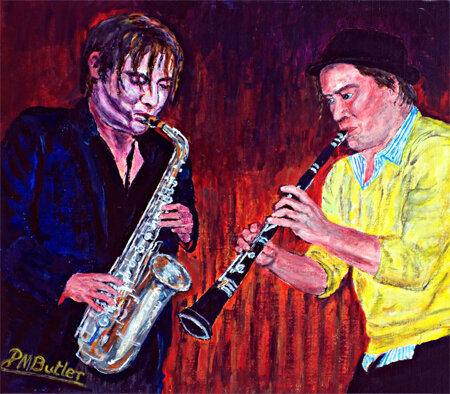 Next I added my Jazz&Jazz Verse
Double Take
Teasing the high notes, caressing the low,
Fingers aflow, instruments aglow,
Adrian beguiles with hypnotic solos.
Sax and clarinet in a virtual duet.

Peter M Butler
Editor Jazz&Jazz
(YouTubes & Prints © Peter M Butler, Jazz&Jazz)
Please follow and like us: