Down south from Edinburgh, the dynamic
Tenement Jazz Band are sure to liven up the
Walnut Tree's Ellington Room with their
old style New Orleans music.
New Orleans Wriggle
12.00 / 2.30pm Sunday 23rd February
ADMISSION £10 on door [unless stated]
Reservations can be taken. Tad Newton 01604858549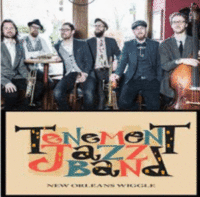 Paddy Darley: Trombone
Chuck Dearness: Trumpet
Tom Pickles:Soprano Saxophone
John Youngs: Guitar/Banjo
Simon Toner: Double Bass
The Walnut Tree Inn, Station Road, Blisworth,
Northampton, NN7 3DS
Contact Tad Newton for further details:
Tel 01604 858549
email: tadjazzfriends@gmail.com
Peter M Butler
Editor Jazz&Jazz
Jazz&Jazz is grateful to Tad Newton for his reciprocal support.
Please follow and like us: