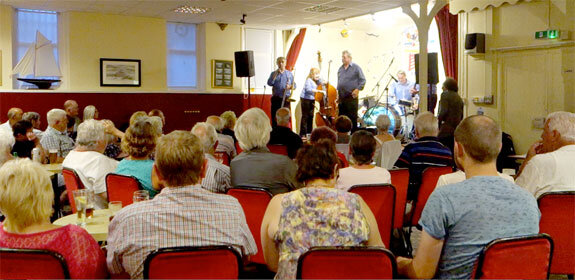 I'm delighted to re-feature my YouTube featuring Ken Sims filmed at
Ramsgate Seaside Shuffle Jazz Club.
It wasn't many months before we lost Ken and it's definitely one of my favourites.
The venue, Ramsgate Small Boat Owners Club, was packed full to the gunnels with fans.
It was a sweltering hot July evening and Mike Pointon likened it to a
'New Orleans jazz dive'.
The following day I chauffeured Ken back to Ramsgate for his train to London.
He shared with me wonderful insights into his years in jazz. To this day I count myself hugely privileged to have shared some of his "secrets".
at
L to R: Mike Pointon (trombone), Annie (bass), Ken Sims (trumpet), Nick Ward (drums),
John Law (clarinet), Richard Smith (guitar)
Peter M Butler
Editor Jazz&Jazz
Please follow and like us: