The Eagle Jazz Band



Founded in 1951, The Eagle Jazz Band has delighted audiences worldwide
for an amazing fifty-four years. Olney fans, you are in for a treat!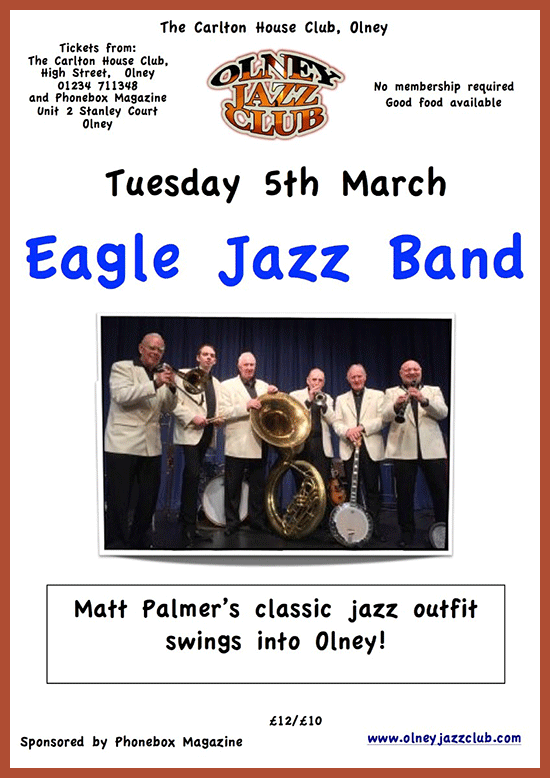 The collective experience amassed by the current line-up includes top UK theme parks, river cruises, cruise liners, major UK and European Jazz Festivals and Radio and Television broadcasts.
Their wide repertoire is drawn from popular songs from the 1920s, 30s and 40s: Classic Jazz compositions by King Oliver, Louis Armstrong, Jelly Roll Morton, Sydney Bechet and
Duke Ellington, plus New Orleans Marches, Rags, Stomps, Blues, Swing
and instrumental features.
All band members are multi-instrumentalists, enabling them to play a variety of different sounds and styles, each played in a happy, entertaining manner, many featuring vocals.
The Eagle Jazz Band have made their mark in several UK jazz clubs and at society functions where they are equally at home. Whatever they play, the emphasis is on entertaining their audiences with high standard musicianship and presentation.
Tickets £12 or £10 in advance from
Carlton House Club, High St, Olney, MK46 4BB
Tel 01234 711348 to reserve tickets and book meals or from
Phonebox magazine, Stanley Court, Olney
Best book quickly. We look forward to seeing you there.
Cheers,
Alan
(Alan Haughton – Organiser)
Jazz&Jazz is grateful to Olney Jazz Club for their reciprocal support.
Please follow and like us: