Getting 2018 off to a Hot Five Start!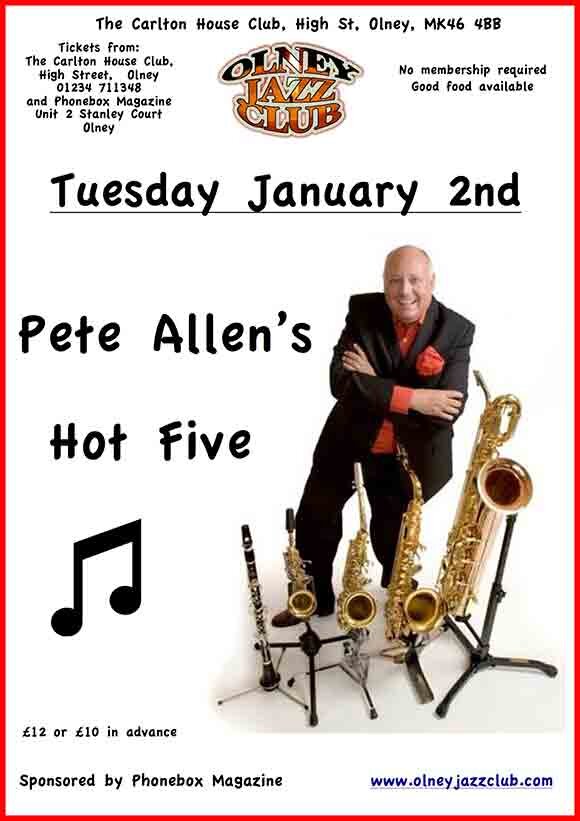 Pete Allen is regarded as one of Europe's most talented and exciting masters of clarinet and saxes. Over the years he has appeared on many television and radio shows, both with his own band and as a solo artiste. He has topped the bill in those magical homes of jazz: St. Louis, Sacramento and of course, New Orleans, where he was awarded an Honorary Citizenship for his services to jazz music. In the mid eighties he was chosen to lead the Worldwide All Stars at the jazz Jubilee in Sacramento. More recently, Pete has been selected to play for the European Top Eight Jazz Band in Germany on a number of occasions, and the Philips International All Stars in Holland. He also fronts the London Paris All Stars and his own chosen European Swing Band. Pete continues to lead his own band featuring jazz stride pianist Dave Browning. Throughout his career Pete has starred as featured soloist alongside American Jazz Greats such as 'Peanuts' Hucko, Bud Freeman, Bob Wilbur, Marty Grosz, Billy Butterfield, Barrett Deems and Jack Lesberg. He also played on numerous occasions with the late, great Kenny Ball.
Tickets are selling quickly at £12 or £10 in advance from
Phonebox Magazine, Stanley Court, Olney
or from the
Carlton House Club, High St, Olney, MK46 5ET
Tel 01234 711348 to reserve tickets.
Good food available: Two main courses for £12 but you do need to book your table in advance.
Next Up at Olney:
Tuesday February 6th 8.00pm
Kevin Grenfell's Jazz Giants (£12 or £10 in advance)
Hope to see you soon at OJC!
Alan Haughton
www.olneyjazzclub.com
olneyjazzclub@gmail.com
"Way Down Yonder in New Orleans" featuring Pete on Clarinet and Dave on Keyboard.
Peter M Butler
Editor & Proprietor Jazz&Jazz
(YouTube © Peter M Butler, Jazz&Jazz)
Please follow and like us: