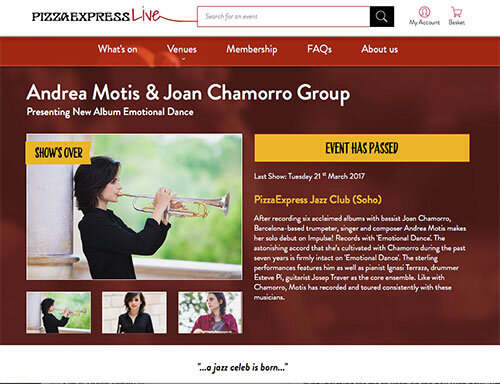 Andrea Motis  & Joan Chamorro Group
"Emotional Dance" Album Launch
"After recording six acclaimed albums with bassist Joan Chamorro, Barcelona-based trumpeter, singer and composer Andrea Motis makes her solo debut on Impulse! Records with 'Emotional Dance'. The astonishing accord that she's cultivated with Chamorro during the past seven years is firmly intact on 'Emotional Dance'. The sterling performances features him as well as pianist Ignasi Terraza, drummer Esteve Pi, guitarist Josep Traver as the core ensemble. Like with Chamorro, Motis has recorded and toured consistently with these musicians." (Pizza Express)
Impossible as it was for me to be at either night's performances, I am grateful to my colleague Paul Goddard, a firm Motis/Chamorro fan, for contributing this review for Jazz&Jazz.
Peter M Butler
Editor & Proprietor Jazz&Jazz
Being billed as a solo launch event of Andrea's Emotional Dance CD by her new record company Impulse, put some minor difficulties in the way of the live Group. Such as being without the (American and Spanish) guest musicians scattered across the 14 tracks of the CD making it nigh on impossible to be faithful to the original recording.
YET! During both sets, you could hear a pin drop between the bursts of rapturous applause. Andrea was at the microphone for over half the total playing time. She performed with ease, confidence, and great professionalism, making me feel rather selfish for wishing I could have heard her on sax as well.
Having purchased 'Emotional Dance' during the interval and listened to it since, I have to say the CD benefits from the guest artists who play on many of the tracks; not that they are superior musicians, but because their contributions make for richer, more rounded performances.
But I would not have missed the concert for the world –  bringing back memories and giving meaning to the CD whenever I listen to it. I highly recommend it.
Without question, Andrea was on brilliant form both with her singing and her trumpet solos. There were also great solos from the other members of the group, especially Ignasi Terraza on piano. But perhaps the loudest applause was for Joan's one and only solo. The entire rhythm section was superb throughout with opportunities to show our appreciation rather few.
Of the Andrea's four numbers, the title track 'Emotional Dance' was the longest and most loudly applauded. The instrumental 'Save the Orang-utan' would, I feel, have benefited greatly from a sax solo, as on he CD.
"I remember you" is an absolute gem on the CD, but I cannot recollect it being performed. Perhaps because Warren Wolf's vibraphone is such an integral part of it, it was felt better to omit it. But whatever the reason, from now on I shall wince whenever I hear Englebert's version.
I cannot say I had any knowledge of Perico Sambeat's  'Matilda'  before, but while the live performance was enjoyable enough, the arrangement with guest artists (including Perico) lift it to a higher level on the CD.
Well known standards such as 'He's funny that way' and  'You'd be so nice to come home to' seemed to suit live performance rather better. And the seldom-heard  'Never will I marry' was a delight.
As a change from tracks from the CD, the group presented The Futons'  'Valerie' because of it's association with the late Amy Winehouse. The performance was a match for anybody's.
Towards the end, the audience was invited to join in the chorus, in Catalan, of 'Louisiana o el camps de coto'. I was amazed that around half of those present could speak Catalan, before I twigged that it probably highlighted those that had already purchased and heard the CD!
Paul Goddard
(On Behalf of Jazz&Jazz)
Recommended Website: Andrea Motis
Just for you, Paul, a Jazz&Jazz YouTube of Andrea on Saxophone at
Pizza Express in 2014:
Please follow and like us: