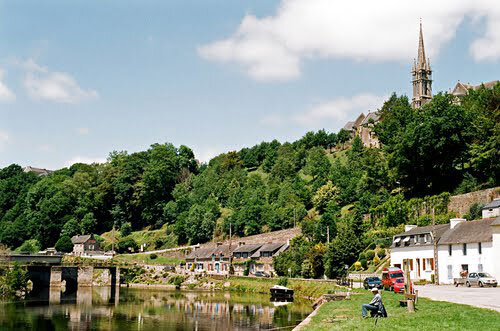 Fest Jazz is a young at heart festival that has been making waves in the jazz world for some years now!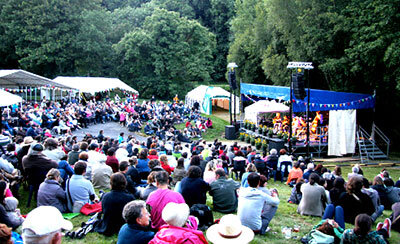 Set on the banks of the River Aulne at Châteauneuf-du-Faou, one of the prettiest corners of Brittany, it attracts artists and fans from around the world. The atmosphere is relaxed and convivial with a great mixture of nationalities and generations. And there are swing dancers everywhere!
It is a young at heart festival with a young management team, young artists, a wonderful mix of nationalities and generations as well as a programme which presents jazz at its dynamic best.
No pretensions, no elitism, no rows of bejewelled bourgeoisie clapping politely as another "past their best diva" goes through the motions on stage! Fest Jazz is a festival where young and old, French, English and a host of other nationalities come together for a weekend long party.
As at every Fest Jazz there is a mix of music styles and plenty of young, exciting traditional style bands. Even more so this year and here's how!
Gunhild Carling
A real star of world jazz, since last September Gunhild has played at Central Park in New York, Bangkok, Argentina, Brazil and Indonesia. Multi-instrumentalist, dancer, singer, come and discover this phenomenal entertainer in an electrifying concert at Fest Jazz on 29th July.
Frog and Henry
Frog and Henry plays really old music from the Americas.
They formed in New Orleans, from members of several street performing groups (including The Hokum High Rollers, The Loose Marbles, Tuba Skinny, The Cable Street Rag Band, and the Smiles & Chuckles Stringband) who have all taken their influence from the blues, jazz,and string band recordings from the '20's and '30's. Watch out for the "magic tuba" –  it's played by a wonderful collection of pedals and pulleys allowing the musician to play other instruments.
Ryan Baer: guitar, banjo;
Leonie Evans: vocals, guitar;
Ewan Bleach: Clarinet, saxophone;
Robin Rapuzzi: Washboard;
Coleman Aiken: Violin;
Maxwell: mandolin-banjo
Old Fish Jazz Band


Six musicians, six different nationalities! Founded in 2009 in Berlin, this great young European band will have everyone on their feet dancing, clapping and loving their brand of New Orleans jazz.
Captain Bots (El hombre) (Belgium): Trumpet, Bones, Vocals
Carlos Cotton Mouth (Spain): Piano, Accordion, Voice
Sweet Slide Christoffer (Sweden): Trombone, Vocals
Talis Stringunstrung (Latvia): Banjo, Chant
J. Der Schlürfer (France): Soubassophone, Double bass, Voice
Lazy B.Laurins (Germany): Clarinet, Vocals
Malo Mazurié
This sensational young Breton trumpeter played in the very  first Fest Jazz at the age of 12 in 2005. Since then he has become an international star with concerts from Tokyo to New York. In 2017 he will be playing in duo with Bernd Lhotzky.

Bernd Lhotzky – "The Art of Classic Jazz Piano"
Bernd Lhotzky is dedicated to classical jazz with emphasis on the Harlem Stride, the virtuosic piano style, pioneered by the massively popular Thomas "Fats" Waller, James P. Johnson and Willie "The Lion" Smith in New York in the 1920s and 1930s.
Putting it simply, German born Bernd is one of the very best stride and ragtime players in the world!
The Sweet Peppers
Originally created for the local Swing dancers in Montpellier (Southern France), "The Sweet Peppers" emerged in 2012 as a quartet. Building on their own experience as dancers, the musicians gradually improved their technique and sense of rhythm. Two years later, the quartet became a quintet and broadened their repertoire into a style of music popular with both dancers and jazz fans, paying particular attention to their own arrangements. They emphasise expression in the vocals, rhythmic energy and the strength of instrumental improvisation to make their performances a real "spectacle".
Dorine de Wit and Jamie Brownfield
No need to introduce Dorine de Wit and Jamie Brownfield to UK audiences but they were such a hit at Fest Jazz last year they have been invited back (a rare honour in French  Festivals!).  With Tom Kincaid (piano) and Jack Cotterill (drums) they will certainly have the festival jumping again in 2017. Jamie was in New Orleans for Mardi Gras in February this year where he teamed up with the legendary Leroy Jones for a trumpet duet in the French Quarter's Bombay Club.
Good Time Jazz


Châteauneuf-du-Faou's very own band led by Festival Organiser, Trevor Stent, who, with Good Time Jazz, launched Fest Jazz 13 years ago. One of the most popular bands
in Brittany and beyond.
Panique sur le Manche
Aged just 13 when this was filmed, local guitarist, Eliot Busca, is clearly destined for a great future in the world of Jazz Manouche. He delighted his audience when he starred at
Fest Jazz last year.
Agathe Iracema Quartet
A young Franco-Brazilian singer who mixes intimate bossa nova melodies with explosive samba rhythms and Brazilian jazz. One of the most sought after young stars in
French Jazz today.
Shades
Antoine Laumière: arrangement, guitare
Etienne Quézel: clarinette, basse
Flora Antolin: chant
Ellinoa: chant
Marion Chrétien: chant
Clément Brajtman: chant
Shades is the combination of four top quality vocalists, all lovers of beautiful songs influenced by the Great American Songbook. Half-way between 'Take 6' and 'The Real group', the bass clarinet that accompanies them defines the group identity, by replacing at times a contrabass for a fifth deep voice. The leader of this new formation is Antoine Laudière. Guitar player and arranger, fond of harmonies and big jazz singers, he started composing by taking inspiration from the big bands that accompanied Frank Sinatra and Ella Fitzgerald. The programme of this 'hybrid' vocal jazz formation includes songs that are reinvented and updated with a modern twist.
Second Line Jazz Band
One of the most popular New Orleans style bands in Europe, the Second Line Jazz Band from Sweden was formed in 1989. Original improvisations and arrangements and a tremendous intensity in their playing have given them opportunities to perform at many jazz clubs and festivals, as well as on TV and radio in, for example, England, Germany, Holland, Belgium, Switzerland,
and now Brittany!
INFORMATION
Brittany Ferries' offer:
http://www.brittany-ferries.co.uk/offers/events-festivals/fest-jazz-2017 
Please follow and like us: