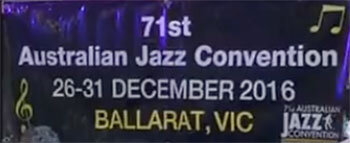 A close friend who emigrated to Australia in 1968 and who recently called on us during a visit back to the UK sent me these YouTubes yesterday. They are lengthy but you could sit back and enjoy some "down under jazz" over New Year's weekend. 
Melbourne University Jazz Band: Survivors and Friends 71st AJC
"First set at the 71st Australian Jazz Convention, Ballarat, 2016. Last convention we played at was the 15th, at Kew in 1960! Most of the original members were unavailable (take a guess), so we're three survivors (John, Vin and me) and six friends (Brett, Tim, Harry, Chris, Ken, Tony). See Melbourne University Jazz Band's Facebook page."
Nicholas Rubish
John Roberts (tpt), Tim Shaw (clt), Brett Iggulden (sax), Harry Price (tbn), Vin Thomas (voc), Nick Ribush (pno), Tony Orr (bjo), Chris Farmer (sbs), Ken Farmer (dms).
Second Set
Thanks go to the revived Melbourne University Jazz Band and to my pal Roger for sending me the YouTubes.
Peter M Butler
Editor & Proprietor Jazz&Jazz
Please follow and like us: