… and aptly so given the massive effort Trevor and his Châteauneuf team put in to make
Fest Jazz, 2016, such a resounding success.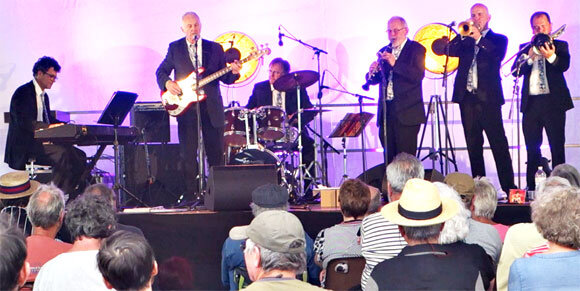 Launched and led by Trevor, The Good Time Jazz Band is local to the Châteauneuf-du-Faou area. The band soon became so popular throughout the region and for playing regular gigs at the legendary Bar Tal ar Pont, that their success inspired Trevor to launch Fest Jazz back in 2005. Since then the festival has gone from strength to strength and plans are already afoot
for Fest Jazz 2017.
Good Time Jazz Band YouTube
Two New Orleans numbers are featured in the following Jazz&Jazz YouTube: "Do You Know What It Means To Miss New Orleans" and "Lady Be Good". Trevor asked me to point out that "bassist Peter Butler is playing an electric bass because of a temporary shoulder problem caused by a lifetime of double bass playing!  Normal service will soon be restored!"
Get fit quickly, Peter.
I  should also mention that this is what I call one of my "Take Two" Youtubes. Why? Because I let the camera roll between the two numbers not only to focus on Good Time's massed fans but also to manoeuvre through them for a better position in time to film "Lady Be Good". Quicker to keep filming than to risk missing part of such a great jazz by having to set up again. OK – I could have spit the YouTubes but I think this adds interest!
One further Jazz&Jazz post is being produced featuring and summarising the massive success of Fest Jazz, 2016. It will include a master YouTube of the entire festival produced by the brilliant Fest Jazz team headed up by Trevor. It will also include just a couple of bands Ginny and I couldn't quite fit into our hectic filming schedule, given the brilliant scope simultaneously available. So come back soon to Jazz&Jazz.
Peter M Butler
Editor & Proprietor Jazz&Jazz
(Photos & YouTubes © Peter M Butler, Jazz&Jazz)
Please follow and like us: