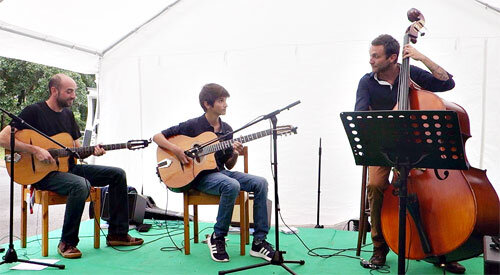 "Panique sur le Manche" stars talented youngster 13 year old Eliot Busca on lead guitar with his father on bass starring at Fest Jazz 2016. Eliot lives close by Châteauneuf-du-Foau.
Translated into English "le Manche " or rather "manche de guitare" is the guitar fretboard, but there's no sign of "panique" or fret in Eliot's performance!
Vive la jeunesse en le jazz!
Peter M Butler
Editor & Proprietor Jazz&Jazz
(Photos & YouTubes © Peter M Butler, Jazz&Jazz)
Please follow and like us: