I'm impelled to start this feature with two very pertinent comments on the
preceding Jazz&Jazz feature:
Why Overseas Bands Aren't Touring the UK – "Penny pinching attitude is not going to rejuvenate the beleaguered situation" (Just Jazz)
"Having visited Fest Jazz this year for the first time, I was blown away by the standard of the young bands at the festival. (Thanks to the heads up and info from this site) French Rag and Dizzy birds were just brilliant. Louis Prima Forever got every one jumping, what a show. But for me, if someone could get Sant Andreu Jazz Band on Main line TV in this country then surely that would jump start interest from our youngsters. What a great teacher Joan Chamorro is. So approachable, his English is not the best but he was willing to chat to me and my wife and friends, nice bloke. I paid to see them in Barcelona last year, at a packed Palais de Musica so I know people will pay to see them. Also there is the human interest element, how do those young kids play that well?
"In my opinion, we need to somehow build interest from a younger audience. If we had that, bands would want to come here. We've got the NYJO (National Youth Jazz Orchestra), but contrast that with the relaxed fun approach of Sant Andreu. Surely the way to go."
Adrian Watkins, Canterbury
Member of my Facebook Jazzers Group
And this from jazz promoter and Jazz&Jazz supporter, Norman Gibson, included in Fred Burnett's 13th August Jazz North West News Update:
"A young and vivacious Angelina Beauvir became the new Fest Jazz Festival President last year and this change has taken Trevor Stent's organising team to a higher level. We, and the team themselves, believe this year's event was the best yet. The 3000 attendance target was exceeded on this amazing weekend. More so this year was the emphasis on young musicians playing good swinging jazz for young and old alike. Of course the Sant Andreu Jazz Band from Barcelona, on their return visit, were a star draw, but Dorine de Wit Band and the Ben Holder Quartet made a big impact. Taimane Gardner (Hawaii), on her European tour, dropped in for a one hour show, to great applause. Surprising us all by what can be played at such high speed on a simple Ukulele ! She's pretty as well, check her out on Youtube! 'The French Rag', 'Dizzy Birds' (Berlin), 'Louis Prima Forever' (France, kept the young Swing dancers more than busy. Our gite was next to one with 6 dancers and you can see them by Googling – I Charleston Brest."
Norman Gibson
Jazz Promoter 'JAZZ4FUNDZ'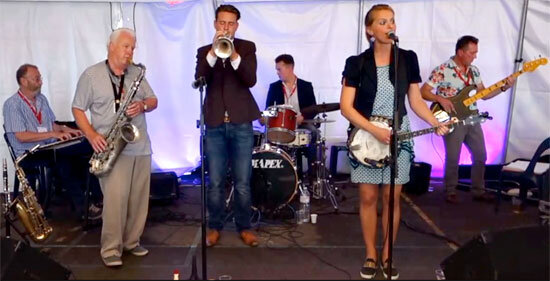 This year my role for Trevor Stent and the Fest Jazz Team was, with my wife, Ginny's careful coordination, to film as many of the festival bands as possible, swinging from venue to venue over the entire weekend.
The quandary has been how to present so many YouTubes (some quite lengthy) – en mass with this feature, or in a series of features linking back to this post. I've opted for the latter, else it could be too long before anything appears. Please note that the YouTubes are not studio recorded or edited for sight and sound. They were filmed live, from whatever angle or position was possible with my magic Sony Lens Camera amongst the thronging fans. I even include some of what I term my "Take Two" YouTubes.
I believe the results are evidence of a brilliantly successful and wonderfully organised festival. The way to go for other festivals? I'll leave you to judge and comment below.
Thank you Angelina, Manon, Trevor and team for such a wonderful opportunity. And OK, yes, I agree with Adrian and Norman, this is the way to go for the future of jazz,
Peter M Butler
Editor & Proprietor Jazz&Jazz
First up for YouTubes, Dorine de Wit and Her Band. Two reasons – that they opened Fest Jazz in The Food Village on Friday evening so we were able to stay for the entire gig and, more importantly for me, because it had been so long since Dorine and I had last met.
Next up on Friday evening The French Rag and Mr Boogie Woogie!
(Photos & YouTubes © Peter M Butler, Jazz&Jazz)
Please follow and like us: