Saxophonist Vasilis Xenopoulos was born in Athens and began playing the saxophone at 13. He studied music at Athen's Philippos Nakas Conservatory, gaining experience by playing with some of the top names on the Greek jazz scene. In 1999 he was awarded a jazz scholarship to the prestigious Berklee College of Music in Boston MA and later that year he represented Greece in the European Jazz Youth Orchestra.
He moved to London in 2002 and by 2005 he had formed his Quartet, soon establishing himself as one of London's up and coming jazz saxophonists. He has worked with some of the best musicians on the British jazz scene and on an international level, he has appeared with a variety of top performers such as sensational pianists Hiromi and Jason Lindner.
In 2009 Vasilis formed his current ensemble "The Xtet". They released their  debut album "Loud City" in 2011 to huge acclaim. He has appeared as guest soloist, band leader and as saxophone section leader in jazz venues and festivals throughout the UK and he is currently lead tenor with the Steve Taylor Big Band and with the Ealing based Sound of 17 Big Band.
"One of the most fiery young saxophonists around blazes a path through the hard bop repertoire" (The Times) 
"A bright newcomer on alto and tenor saxist Vasilis Xenopoulos"… (Evening Standard)
Vasilis' explosive style places him in great demand. Plus he will be starring with
Tad Newton's Jazzfriends, a dynamic band with a great line up, ever popular at The Bedford. 
As ever at The Bedford, seats are shifting fast so best book quickly for
8.00pm, Thursday, 28th May.
Telephone Bedford Golf Club: 01234 320022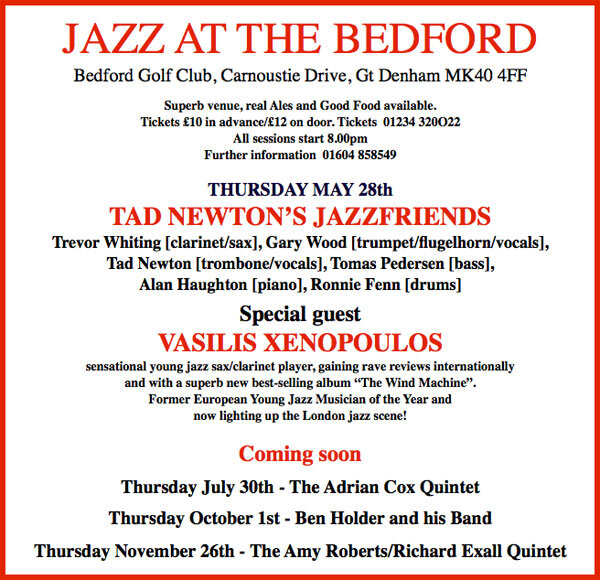 Please follow and like us: