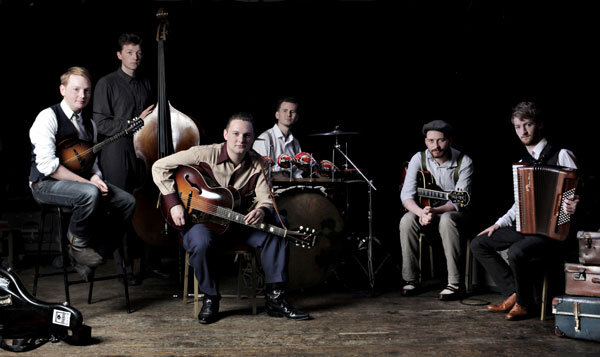 The Witham, Barnard Castle is delighted to announce the launch of their much awaited Jazz Season on Friday 20th March
Rob Heron & The Tea Pad Orchestra
Western Swing meets Blues, Gypsy Jazz and Country
8:00pm, Friday 20 March 2015 
Price: £10 | £8 concessions
Rob Heron and the Tea Pad Orchestra is one of the hardest working bands on the UK roots circuit. With thousands of touring miles under their belts, they have earned themselves a sizeable fan base in the UK, Europe and beyond. Based in Newcastle Upon Tyne, they play their own brand of Western Swing, Blues, Gypsy Jazz and Country, or "North Eastern Swing" as they've coined it.
Their style is more eclectic than most, influenced by early 20th century American music, with the addition of "razor-sharp" solos, great arrangements and original songs; their music harks back to a golden age whilst staying perfectly modern. The songs are penned by Rob Heron, a crazy fool for country music and a full time dandy-cowboy. His songs are full of character, satire, and good old fashion hollerin'.
The band, a hot six-piece, features Ben Fitzgerald (guitar), Tom Cronin (mandolin), Colin Nicholson (accordion), Rob Blazey (double bass) and Paul Archibald (drums).
Their debut album, 'Money Isn't Everything', caused a sensation when it was released in 2012, winning a host of rave reviews – many of them 5-star. Their second album, "Talk About The Weather" (released July 7th 2014) also gathering notable radio play and reviews. It is said that the best way to experience Rob Heron and the Tea Pad Orchestra is at a live show; so head on over to the Witham to see them this Friday 20 March.
YouTube © Peter M Butler, Jazz&Jazz
See also on Jazz&Jazz: Rob Heron & The Tea Pad Orchestra
Plus not to be missed at The Witham, Barnard Castle 

The Gilbert Jazz Quartet
7.30pm, Wednesday 25 March 2015
Price: £8
Zoe Gilby is a distinctive and versatile vocalist and songwriter who has been making a real impression on the UK jazz scene. Based in the North East of England, Zoe has performed to international audiences; 2013 saw Zoe perform at jazz festivals in China, Finland and the Ukraine as well as continuing to tour extensively across the UK. Her regular quartet (Mark Williams, guitar; Andy Champion, double bass; and Richard Brown, drums) have been performing together since 2008. Here you'll find an interaction that is unfailingly stimulating and sympathetic. Also included are some superb interpretations of "The Great American Songbook"
King Bee Jazz Funk
8:00pm, Saturday 18 April 2015
Price: £10 | £8 concessions
Formed in 2012 by Smoove and Turrell's saxophonist Dave Wilde and Chris Jelly, King Bee have years of experience playing and recording in various funk, groove and jazz line-ups. Building on this experience, they have created their own style, sculpting sounds around mesmerising vibraphone, Rhodes piano and psychedelic Moog, tight bass and drum-grooves, jazz-fusion guitar and the three piece King Bee horns.
Djangologie
The North East's premier Gypsy Jazz quartet
 7:30pm, Wednesday 29 April 2015
Price: £10 | £8 concessions
 Hot club inspired bands are far from a rarity on the UK jazz scene, but what marks Djangologie out as something special is the way they take the original spirit of the music and breathe new life into it. Noted for the way that they maintain the swinging spirit of the great Reinhardt-Grappelli ensembles but without trying to be a carbon copy, the music of Djangologie is firmly rooted in the Hot Club sound of the swing era. This can be found in the virtuosic performances of time honoured 1930's hot club classics and a repertoire of exquisitely written gypsy jazz originals. This is inspired rather than deferential homage. All four members share a detailed understanding of the gypsy jazz tradition. With their intense brand of swing, Djangologie continue to draw, thrill and entertain ever-increasing audience numbers.
VENUE INFORMATION
Barnard Castle – listed in The Sunday Times Best Places to Live in Britain – is one of the 50 best preserved towns in England, and the Grade II listed Witham building is an important feature of the townscape, located on the curve where Horse Market meets the Market Place. 2015 marks the culmination of over 10 years work to raise money and carry out work to restore its historic fabric and make The Witham fit-for-purpose as a fully accessible modern arts venue for the 21st century.
www.thewitham.org.uk
Please follow and like us: