The Carlton House Club 
March Newsletter

Hi to all you aficionados of live music,
I'm sure all who were at the February gig really enjoyed and appreciated Graham Hughes' wonderful Sunshine Kings jazz band with special guest Adrian Cox….they really rocked the club!
The Carlton House Club concert room has undergone major redecoration and improvements and this coming Tuesday, March 3rd, will be the inaugural gig on the new stage starring top UK outfit the Amy Roberts/Richard Exall Quintet.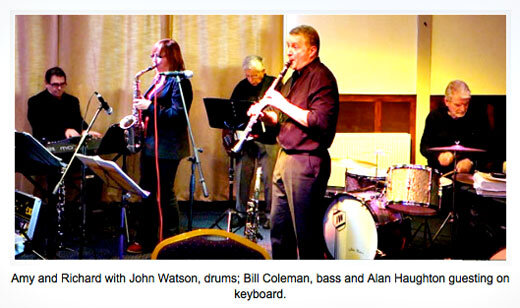 The Quintet features the eponymous duo plus Bill Coleman (bass), John Watson (drums) and yours truly on piano. A great night of virtuoso clarinet, sax and flute guaranteed! So get on down to the Carlton House Jazz Club this coming Tuesday for a great night of swinging jazz from the golden era!
Tickets: £8 in advance or £10 on the door.
Also from Phonebox Magazine, Stanley Court, Olney
Tel: 01234 711348,
Why not make a night of it and dine at The Club before the show – in the hall until 8.00pm or in the Club Restaurant. Two main courses for £10.
Tel: 01234 711348 for reservations.
Coming Soon to Olney Jazz Club
Tuesday April 7th – The Richard Baker Quintet featuring Richard (trombone), Alan Wakeman (sax), Ian Riley (piano), Dirk Griffin (bass) and Alan Savage (drums).
Tuesday May 5th – The Gary Wood Swing Band in concert with their new show,
"When Jazz Meets Gospel".
More details at our web site www.olneyjazzclub.com
Hope to see you at the club soon…..no membership required,
Best wishes,
Alan
Olney Jazz Club
www.olneyjazzclub.com
[email protected]
Sponsored by Phonebox Magazine
Please follow and like us: