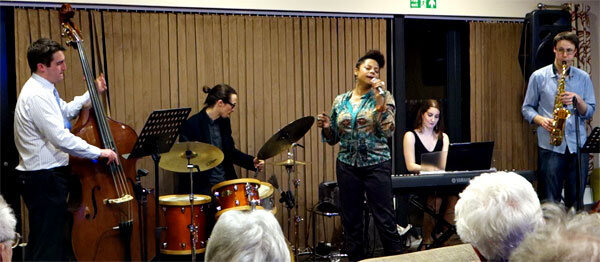 "PEOPLE GET READY, the future of jazz is now!" is the title of a book which my daughter gave me for Christmas. Outdated you might think, but not so. It was published in 2013 by Duke University Press, Durham and London.
Since launching Jazz&Jazz early in 2011 I have seized every opportunity to feature younger bands and explore the opportunities they present for a wonderful jazz revival. And it's becoming ever more evident that the time is indeed now!
So it's with huge pleasure that I feature here my YouTube of Rachael Johnson's Youngbloods with guest vocalist Mellow Baku filmed just two nights ago enthralling a full house at JAZZ AT THE BEDFORD, presented by Tad Newton. I especially enjoyed the fun and repartee shared by the band.
Peter M Butler
Editor & Proprietor Jazz&Jazz
Photos & YouTube © Peter M Butler, Jazz&Jazz
Please follow and like us: