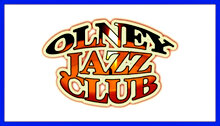 Hello everybody, I hope you have all had a very happy Christmas and are ready for the New Year! We've an exciting programme of gigs lined up for you in 2015 that cover many of the different styles found in jazz music. All the gigs take place at the Carlton House Club, High Street, Olney which is also where you may purchase tickets or reserve them on 01234 711348. Phonebox Magazine, Unit 2, Stanley Court also hold a few.
Tuesday, January 6th
The January gig features the Frank Griffith Quintet which is packed with top musicians who will have your feet tapping. The band features Frank on sax/clarinet. Griffith's music has been performed and recorded by a wide range of soloists and ensembles and most recently he has collaborated with strings including the Brodowski, Maggini and Bowfiddle string quartets. He is also the founder and curator of the annual String Quartet Festival at London's leading jazz club, Pizza Express in Soho. Frank has played, arranged for and recorded with the likes of Ron Carter, Lionel Hampton, Mel Torme, Norma Winstone, Kenny Wheeler Sir John Dankworth and Dame Cleo Laine. He  has also recorded three CDs for the Hepjazz label (www.hepjazz.com) as well as two more for Hep as a saxophonist, arranger and music director for vocalist, Tina May.
Also in the band is
Bruce Adams
, one of the UK's top trumpeters. 
Bruce's career has taken many turns since he started playing trumpet in 1962. From playing small group gigs and cabarets around Glasgow through winning Opportunity Knocks in 1965, Expo 67 in Montreal and entertaining troops in Aden the same year with Tony Hancock, Bruce followed a path that has taken him through the Scottish Radio Orchestra, Blackpool Summer Seasons and Cruise Liners. Bruce always tried to keep his Jazz to the fore, playing with people like Benny Carter, Al  Cohn, Buddy Tate, Al Grey, Dick Hyman, Ray Bryant, Major Holley and Howard Alden. 
His award winning partnership with Alan Barnes has been in existence for 22 years. Bruce also had a quartet with guitarist Dave Cliff for several years.

Also featured are Nick Weldon (piano), Dave Olney (bass) and Les Cirkel (drums). All tickets are £10 or £8 in advance. This should be a great night of swinging jazz.
Advance Notice
Remember, all gigs are at The Carlton House Club, High St, Olney MK46 4BB and start at 8.00pm. Why not book a table to dine? Two main courses for £10!  (01234 711348) 
Looking forward to seeing you at OJC soon.
Best wishes,
Alan
Olney Jazz Club
Jazz&Jazz Editor's Note:
Alan emailed recently thanking fans for their tremendous support in 2014. He added: "We are one of the most successful jazz clubs in the region …… let's keep it going from strength to strength in 2015. Let's keep live jazz alive!"
He echoes Jazz&Jazz aims and I fully endorse his sentiments!
Peter
Jazz&Jazz Editor & Proprietor
Please follow and like us: