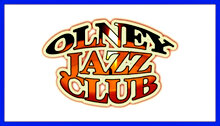 "You can find Olney Jazz Club at The Carlton House Club, High Street, Olney, MK46 4BB. It runs on the first Tuesday of every month except for August, when we take a summer break. We're a very friendly club and no membership is required."
With those few words, composer and musician Alan Haughton, tempted me into exploring Olney Jazz Club's website.  And when I did I discovered that Olney is all but equidistant between Bedford and Milton Keynes just a short drive from from my home. Not only that, but Alan's choice of Tuesdays as the club night is perfect as it doesn't clash with other jazz venues.
Olney Jazz Club meets in an ideal setting at The Carlton House Club, High Street, Olney, MK46 4BB where fans can make an evening of it and dine at the club.
Amy to Star at Olney
But what about the jazz? You only need to delve a little deeper into Olney Jazz Club's website to discover that Alan has booked Amy Roberts and Ian Bateman to guest at the club on Tuesday, 4th March, with the hugely popular Frog Island Jazz Band playing on Tuesday, 1st April. And if you are tempted enough to get along to Olney earlier than that, Josh Kemp's Jazz Prophets are playing on 4th February as part of their current national tour.
Visit JAZZ AT OJC IN 2014 for  updates to the programme.
Alan's excellent site also includes Galleries, Recordings and even Newsletters with updates on events. So if you are within striking distance of Olney be sure to get along to The Olney Jazz Club.
( Above Photos with permission of Olney Jazz Club)
Congratulations, Alan, on such a friendly jazz website. Yours is the kind of club fans need to help keep jazz live and alive!
Please follow and like us: