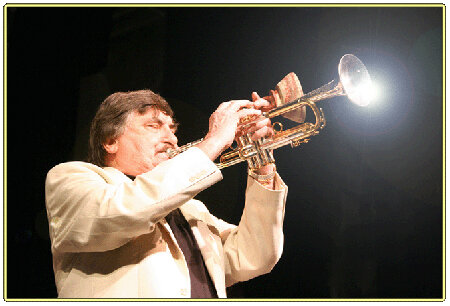 Syd Appleton pays a fond farewell to Kenny Ball

It was at about 2pm on Tuesday, 19th March, that the wicker basket coffin containing my Boss of 13 years and acquaintance of 35 years was lowered into his final resting place on a hill overlooking his beloved Essex. There have been plenty of column inches and TV coverage outlining Kenny's humble beginnings and subsequent rise to fame so I won't mention those well known facts.
But Peter Butler asked me if I'd write an obit for Jazz&Jazz and Jazzers and I offered to write a short article about the man himself and what it was like working with him…so here goes …
"Ello mate, I'm Kenny Ball!"
I first met Kenny when I was working with Max Collie and doing a bit of bar work at The Lord Napier pub in Thornton Heath. The Landlord "Uncle Vic" Watts had booked Kenny for a Saturday night session as a guest with Lord Arsenal's Allstars. I was working that night and, if I'm honest, was expecting a brash, flash Eastender to turn up shouting the odds but I was taken by surprise.
At about 7pm Kenny showed up with his bass player John Benson, who had driven him. He walked towards me, held out his hand and said "'allo mate, I'm Kenny Ball". For the next 30 minutes or so the three of us stood at the bar chatting and having a "livener", with Kenny seeming to be more interested in me and the early arrivals for the gig whose hands he shook when proffered. He blew an absolute storm that night as he did whenever I saw him perform, either with his own band or as a guest, over the next 35 or so years.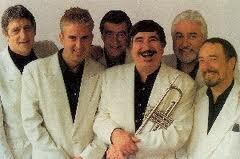 I worked with Monty Sunshine for about eight years during the 90's up until ill health forced Monty to retire and then, after a one year spell with Terry Lightfoot, I got the call from Ken asking me if I was free to join him and The Jazzmen. Terry let me leave with his blessing and so my 13 year stint with Kenny began. I was, the sound engineer for Kenny's band, and for the first 11 years I drove one of the Sprinter vans which carried half of the band and equipment all over the UK and Europe. I had Kenny, John Bennett and John Benson travel with me prior to John Benson leaving and being replaced by Bill Coleman. Kenny sat next to me in the front and would quote from The Sun, his favourite paper, any silly stories or jokes that he could find. As a Telegraph reader I was always gripped by these stories, as you can imagine?
I am still the band's sound engineer, but now for his son Keith, who, in keeping with Kenny's wishes, will keep the Legacy of The Ball Band alive.
The Show Went On
Kenny's great passion, aside from the love of his family and band, was playing his trumpet and entertaining. In early 2002 Ken was struck down with cancer of the colon which put him off the road for a few months, although the band continued with a dep trumpeter and Andy Cooper doing the announcements. Ken came back in July to an open air gig in a vineyard near Colchester. I arrived to pick him up from his home near Stansted and hardly recognised him as he had lost so much weight and his band suit was hanging off of him. He was very weak, looked very frail and struggled to either play or sing but the show went on and the audience's response was magnificent.
Ken got stronger and stronger through sheer willpower and within a year was back in reasonable health. Over the next few years Ken suffered with respiratory problems and had Pneumonia on two other occasions. His doctor warned him that if he didn't quit smoking he'd get emphysema and that would put paid to his trumpet playing. So it was a choice between giving up either the weed or the trumpet. He stopped smoking that very day!
In recent times Ken had bout after bout of chest infections and we employed "second" trumpeters to help him out with "the hard bits" as Ken used to tell the audiences. Any fears Ken had about his fans abandoning him because of his difficulties with his trumpet were short lived. Ben Cummings, Peter Rudeforth and Mike Henry took turns in doing "the hard bits" but it was always Kenny Ball that the fans came to see. His ability to entertain them with his fumbled announcements and gags was second to none. Ken certainly knew how to work an audience! This was borne out by the sight of queues of people lining up to chat and have CD's signed and photo's taken with their hero in the foyers after the concerts.
Complete with hospital wristbands, Kenny blew a storm!
About three years ago Ken was due to do a guest appearance at The Theale Village Hall with Graeme Hewitt's High Society Band but was taken into hospital a few days before the engagement. I had a call from Graeme who accepted the fact that there was nothing we could do because "when you're ill you're ill and that's it". But on the morning of the gig I had a phone call from Ken asking me to drive him to Theale because he was going to be able to do it after all!
There was one problem! Ken was still an inpatient at Harlow Hospital and was due to be let out a couple of days later. He had asked his doctor if he could go out "for a bit" that Tuesday evening on the excuse of visiting someone else in hospital. I picked him up at about 6pm and was surprised to find, hidden under his blanket, his trumpet case. He was due back before 10pm! I drove him to Oxford and he did the gig.

Graeme was delighted that he'd made it, as were the audience. He told Ken that as Denny Ilett was there on trumpet duty with The High Society Band, he would only need to do a couple of numbers in each set. Kenny got up on stage after the fourth number, complete with hospital wristbands, and blew a storm. And he didn't get offstage, apart from the intervals, all night! Then, after he spent time chatting to everyone and signing autographs, I finally got him back to Harlow at about 1.30 am!!!
He slept all the way home and was exhausted, but that was Kenny all over, he didn't want to let either Graeme or the audience down.
Fisherman's Chair or not, Kenny stood for the rest of the gig
Another time he had to have a total knee replacement and as I was waiting for one myself I'd downloaded 18 pages of do's and don'ts from the internet to help him with his recovery. I think he was 76 at the time and his operation was put back a week. The following week he had the operation on Monday was discharged on Thursday. We had a gig on the Saturday for the Gravesend River Festival and Ken insisted on doing.
I went out and bought him a fold up fisherman's chair for him to sit on and gave him strict instructions to walk no further than he had to. He sat down for the first set and then during the second set stood up to do a three part harmony feature on 'Them There Eyes' with John and Andy. He never sat down for the rest of the gig!
There are dozens of other stories I could tell about Kenny, but basically he was one of the good guys with a big heart. Nothing was too big a deal with him. Twice, after two long overnight drives I managed to put two full tanks of petrol into our diesel fuelled van within about three months of each other. We lost about £80 of siphoned petrol, paid somewhere like £150 for the garage to drain the tank and then refill with £90 of diesel, TWICE! Yet when I apologised to him he simply replied, "Don't worry about it Syd, shit happens, nobody died"!
The Kenny Ball Sound lives on!
In the 13 years I was with him I don't think we ever had a row – disagreements, yes, but no rows. He loved entertaining, had a great sense of humour and never lost sight of the fans who had followed him from the band's inception until the end of his life and made him what he'd become. The fans loved him and so did his band. And now The Kenny Ball sound lives on through The Jazzmen and Ken's son Keith.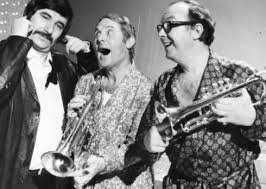 For me, the saddest thing was that Kenny was never recognised with a gong for his services to music and charities. Chris Barber and Acker Bilk deservedly got theirs but Kenny – with 15 chart hits, a couple of Royal Command shows, countless TV appearances on Morecambe and Wise and Saturday Night at The Mill plus being asked to play at Prince Charles' wedding – was overlooked. A great pity which surprised Lord Archer when we did a charity fundraiser for Addenbrooke's Hospital last Summer and I asked him if there was anything he could do about it. He said he'd look into it for me, so maybe they could posthumously award one … he deserved it.
Losing Pat Halcox, Kenny and now Terry Lightfoot all in the space of six weeks is tragic for British Jazz but the three of them would make one hell of a band wherever they are!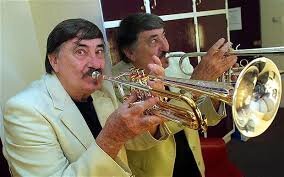 Email: [email protected]
Please follow and like us: