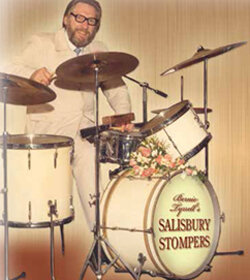 SINCE POSTING THIS ARTICLE ON JAZZ&JAZZ IN SEPTEMBER, 2011, MOST JAZZERS WILL HAVE LEARNED THAT BERNIE TYRELL PASSED AWAY IN NOVEMBER, 2012, AFTER A SHORT BUT SERIOUS ILLNESS. THE JAZZ&JAZZ TRIBUTE TO BERNIE IS ENTITLED Farewell Bernie – Until the Next Time.
NOW LYNDA IS HERSELF IN HOSPITAL ALSO SERIOUSLY ILL AND OUR PRAYERS ARE WITH HER FOR A COMPLETE RECOVERY.
IN THE MEANTIME, TERRY CHEYNEY, WHO HAS HELPED LYNDA AND BERNIE  WITH THE JAZZ GUIDE FOR MANY YEARS, IS CONTINUING TO PRODUCE IT. HOWEVER, FOR OBVIOUS REASONS HE HASN'T YET GOT COMPLETE ACCESS TO ALL ADVERTISERS AND SUBSCRIBERS.
THEREFORE IF ANY BANDS, MUSICIANS AND CLUBS ARE MISSING OUT ON ADVERTISING OR ANY SUBSCRIBERS ARE NOT RECEIVING THEIR MONTHLY ISSUES, PLEASE CONTACT TERRY OR SARAH:
Tel: 01908 542595 • Email: [email protected] • Address: 7 Blackwell End, Pottersbury, Nr Towcester, NN12 7QE
BE ASSURED, THE JAZZ GUIDE IS STILL AND WILL CONTINUE TO BE AVAILABLE TO ITS LOYAL FOLLOWERS AND SO THE PARAGRAPHS BELOW AS RELEVANT AS EVER.
First posted in September, 2011:
JazzandJazz.com aims to open up the dazzling world of jazz to wider audiences. The plan is to feature the exquisite performances of top bands and modern day jazz greats and the exuberance of musicians in smaller bands on the jazz circuit.
In the UK, we need look no further than the monthly Jazz Guide to realise that traditional jazz is very much alive and kicking with countless bands performing in clubs, pubs, resorts and at festivals from shore to shore.
As JazzandJazz develops we hope to hear from these bands, feature their musicians and and help promote their gigs and involvement in jazz festivals.
So lets get the ball rolling and begin introducing the bands.
"We make no apology for asking you all to get out and about these venues to support the people fighting to keep YOUR music live and alive. Keep JAZZIN'." (The Jazz Guide, September 2011 Edition)

Please follow and like us: