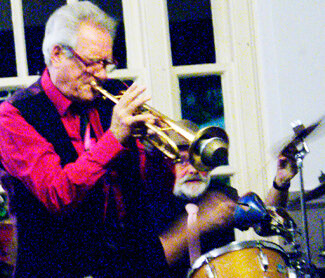 Dave Rance describes his Bedfordshire based Rance's Rockin' Chair Band as "a little different from the usual jazz bands, often amusing but always entertaining!" Dave himself is full of contagious vitality and exuberance and his colourful character is reflected in his band's performances, if not in his abundance of corny jokes. The fans love them!
Not so long ago Dave commissioned me to paint an acrylic of his band. He planned to have them pose for a photo for use as a reference. "No good," I replied, "It would probably turn out like the typical wedding photo. I need to take photos of each musician individually. I study their characteristic styles, their nuances, and then capture the shot that best depicts their personal subtleties. I can line them up in the painting."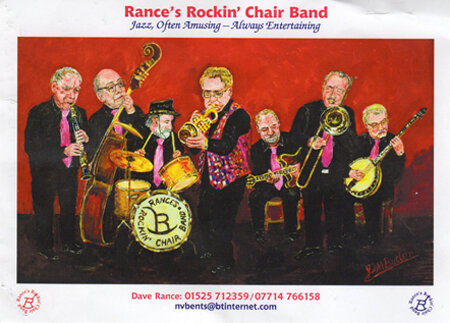 I decided the painting should be semi-caricature in style to match the band's contagious, fun-filled vitality and when I presented it to Dave he fell in love with it. He decided to use it to promote the band so I supplied him with a fine art print along with Photoshop jpegs.
He had A5 prints made of the painting along with a page of his own photos of the musicians. He distributes these to jazz venues and clubs far and wide. "Fans take a look at the painting and then you can see them identifying each of us in turn! It's grand for new venues and for promoting the band and our gigs!"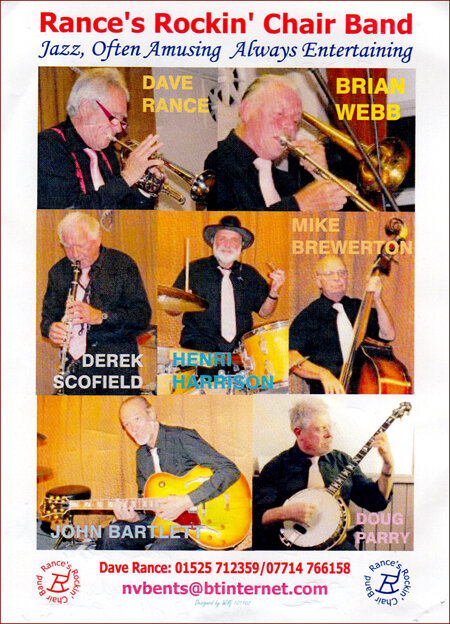 This got me thinking. I've always aimed  to use my jazz portraits and photographs to help promote jazz. The obvious way is to win more commissions and sell more of my hand made, signed fine art prints of the paintings along with my photographs to finance these aims and help broaden my coverage of jazz. To do this I need to cover more jazz venues, clubs and festivals but that all costs money. Jazz&Jazz is growing like topsy and along with my Facebook Jazzers group, is taking up more and more of my time.
Covering the Costs of Promoting Jazz
Dave Rance produced his own flyers using my painting. I'm very happy about that, but I realise that Jazz&Jazz can do more to help promote bands and musicians. My wife, Ginny, is an excellent graphic designer and I have a son and a son-in-law both skilled in graphic arts and web site design. So why not keep it in the family and offer my writing, photographic and artistic skills along with their skills to help promote jazz bands, clubs, festivals and musicians. In turn it would help cover my costs in broadening the scope and coverage of Jazz&Jazz in promoting jazz.
The Way Forward?
I would appreciate comments on this. It would be good to hear from jazzers who might be interested in my suggestions. I am currently exploring such possibilities with a band taking a keen interest in Jazz&Jazz and my Jazzers Group.
Purchasing Jazz Portraits
Should you be interested in purchasing a signed, fine art print of the painting commissioned by Dave Rance, simply  go to to 
Jazz Painting of Rance's Rockin' Chair Band
to place your order by email. Or take a few moments to view my other jazz portraits displayed under JAZZ ART. 
Thank you for your interest.

Peter M Butler
Jazz&Jazz
Please follow and like us: