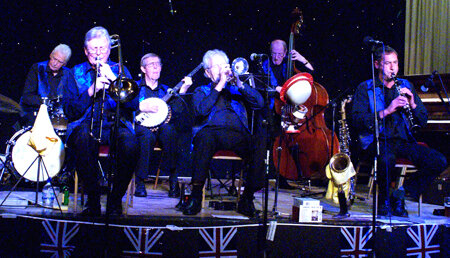 No sooner had Mike Pointon launched the 2012 Autumn Jazz Parade at Hemsby, Norfolk, by announcing The Reunion Jazz Band than dancers took to the floor in their droves to trip the jazz fantastic.
To the fans' delight George Buckman and his magnificent six got the festival off to a rousing start with three great sets in true New Orleans style. The Ken Colyer legacy lives on!
(Photos © Peter M Butler, Jazz&Jazz)
Jane, Band Leader George Buckman's partner, is an illustrator and cartoonist. Affectionately known as the "Drummer's Moll", she couldn't resist inviting Jazz & Jazz to feature the two cartoons below. Poor George!
Please follow and like us: