It bears repeating what an ardent fan recently said tome at a Fallen Heroes session: "Who said jazz musicians are all oldies, this band is full of youngsters!". Nevertheless, jazz oldies by far outnumber the youngsters and if trad jazz is to make that long awaited comeback onto the big stage we need to applaud it's rising stars.
So for starters let's feature Amy Roberts, Adrian Cox , Baby Jools and Ian Wynne.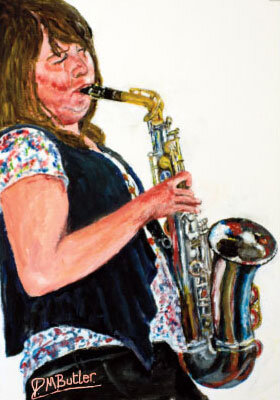 Amy Roberts
I first met Amy at the 2008 Ken Colyer Autumn Jazz Parade in Hemsby, Norfolk, where Sammy Rimington invited her to join him in a saxophone duet.
Afterwards I overheard Sammy saying: "Amy's got a natural talent and feel for the music. She's got rhythm. She's got swing. She's the future of jazz."
Voted winner of the British Jazz Awards Rising Star Category in 2009, Amy also placed second in the 2010 awards.
Just in her 20s, she joined the Big Chris Barber Band early in 2011. More recently along with Richard Exall she launched the 'Amy Roberts Richard Exall Quintet' which was voted 'Band of the Year 2013/2014' and presented 'The Harry Cameron Trophy'.
Adrian Cox
I've got to know Adrian Cox through his scintillating performances with T J Johnson (www.tjjohnson.co.uk/) at The Crypt, St Martin in the Fields, London, guesting with The Fallen Heroes as well as Barry Martyn and the Young Bloods at the 100 Club and at the 2009 and 2010 Autumn Jazz Parades in Hemsby. No matter what the occasion he is always happy to stop and chat and he undoubtedly charms the ladies. Adrian featured in the 2010 British Jazz Awards on clarinet. He now stars regularly with "The Adrian Cox Quartet".
He starred in a stunning saxophone duet with Amy Roberts at the 2010 Hemsby Autumn Jazz Festival and below is my acrylic painting and my poem capturing them putting on the style.
Reeds in Duet
Saxophone and clarinet
Reeds in duet
Amy and Adrian
Trad Jazz's Jet Set
Keeping the spirit of jazz alive, Amy Roberts and Adrian Cox steel the show
with a stunning duet at the 2010 Autumn Jazz Parade
in Hemsby, Norfolk.
Baby Jools
Baby Jools (Julyan Aldridge) gave a phenomenal performance on drums with Max Collie's Rhythm Aces during the Ramsgate Seaside Shuffle festival in July, 2011.
When just 19, Baby Jools was described on Max's website as having "lots of drive and swing." (www.maxcollie.co.uk)
He was a driving force with Matt Palmer's Millennium Jazz Band, starred with the Chris Barber Band and also plays drums for the Bennett Brothers. Nowadays you will see him with "Baby Jools & The Jazzaholics"
Baby Jools is high on my list of future portraits but should you be interested in placing an advance order for an Art& Verse fine art print, please email me at: peter@jazzandjazz.com and I will prioritise the portrait.
Ian Wynne
I was blown out of the water by Ian Wynne's stunning piano performance with the Rae Brothers New Orleans Jazz Band at Hemsby's 2011 Autumn Jazz Parade. Ian joined the Rae Brother's "under the auspices of his mother" and now, still in his early 20s, his keyboard skills already emulate great jazz pianists like Emile Van Pelt and Ray Smith.
The Rae Brothers took him under their wing and encourage his studies at Birmingham Conservatoire. He told me he had to head back straight after the festival for a special assignment.
If you are interested in any of my Fine Art Gicée Prints, simply email: peter@jazzandjazz.com to place your order and help support jazz.
Please follow and like us: