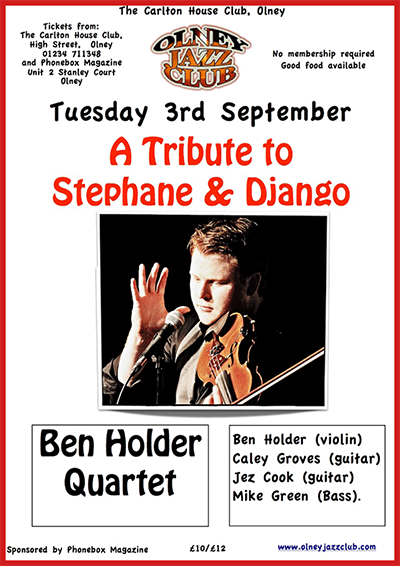 During his studies, Ben began listening to
Jazz – classic masters such as
Benny Goodman and Oscar Peterson
and of course the great jazz violinists
including Grappelli, Joe Venuti and the
awe inspiring Stuff Smith.
Later at college he embarked on a detailed analysis of these musicians' techniques and the way in which they merged this most classical of instruments into the jazz idiom. Ben's innate sense of swing rhythm (something which often eludes classical players) stems from those early listening sessions – and his various awards bear testimony to his abilities.
A first call jazz violinist for many of the country's top bands and studios, in tonight's show Ben is joined by top UK jazz musicians Caley Groves (guitar), Jez Cook (guitar) and Mike Green (bass).
BOOK EARLY!
Best Book Quickly! Seats at Olney sell fast!
£12 or £10 in advance from Carlton House Club,
High St, Olney, MK46 4BB
Tel 01234 711348 or 07882 606554
From Phonebox magazine, Stanley Court, Olney.
Tel 01234 711348 to book meals.
www.olneyjazzclub.com
Looking forward to seeing you there.
Cheers,
Alan
(Alan Haughton – Organiser)
Advance notice:
Tuesday October 1st: Sara Dowling and the Chris Ingham Trio.
Jazz&Jazz is grateful to Olney Jazz Club for their reciprocal support.
Please follow and like us: