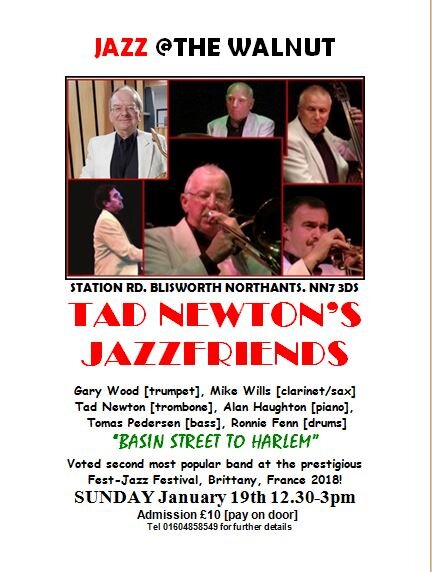 SUNDAY 19th JANUARY
12.30 – 3.00pm
Tad Newton's Jazzfriends
"Basin St. to Basie and Beyond"
Gary Wood [trumpet]
Mike Wills [clarinet/sax]
Tad Newton [trombone]
Alan Haughton [piano]
Tomas Pedersen [bass]
Ronnie Fenn [drums].
LIVE JAZZ
USE IT OR LOSE IT!
**** **** ****
Great venue, three miles from J15 on M1.
Free parking, real ales, great hot food, bar snacks.
Top national and international jazz bands.
ADMISSION: £10
TEL: 01604 858549
View the full 2020 Walnut Tree Programme.
LIVE JAZZ … USE IT OR LOSE IT!
TAD NEWTON 01604 858549
www.tadnewtonsjazzfriends.com
email: tadjazzfriends@gmail.com
Peter M Butler
Editor Jazz&Jazz

Please follow and like us: