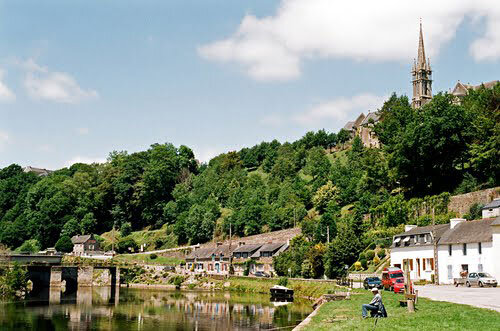 FEST JAZZ 2020 (24 – 26 July)
"The programme for Fest Jazz 2020 is taking shape and once again the accent is on young and varied groups from all over Europe. Once again too, I become one of the most hated people in European jazz as we are forced to reject thousands (literally) of fine bands. We just do not have the finances and the place for everyone who applies. And we are very sorry!
"If you haven't yet been to Fest Jazz do have a serious think about a visit this year. It is a different type of jazz festival with young organisers, young spectators and a fabulous setting on the banks of the River Aulne.
"The Early Bird tickets go on sale online from 1st December and
Brittany Ferries have again arranged a special package for travelling
to the festival."

Trevor Stent
Tad Newton is organising a coach to Fest Jazz with hotel accommodation included, so contact him at 01604 858549 or tadjazzfriends@gmail.com to find out more.
The First names on the Programme 2020:
Two groups that take the eye this year are from Berlin, although their musicians come from a variety of countries and backgrounds.
Have a look at:
The Ragtime Nightmare
A really pleasing change of style from the standard "trad jazz" line up. They could be the hit of the festival!
The Jungle Jazz Band
Super classic jazz from a band that includes a local Brittany lad on Tuba: Jack Butler, son of Peter Butler the bass player with local group Good Time Jazz. Jack grew up not far from Châteauneuf-du-Faou. The rest of the group come from Russia, Spain, Germany, France…. Everywhere!
Other artists appearing include:
Nirek Mokar & the Boogie Messengers
17-year-old boogie-woogie prodigy from Paris playing with his quintet.
What talent!
Jacks'&'Jills Swing Band
Excellent swing music for the hundreds of dancers who come to Fest Jazz. A young group from Paris led by a fine trumpeter: Julian Silvand.
Sean Moyses
The brilliant banjo star from the UK. Here is Sean playing with Malo Mazurié at Fest Jazz in 2015:
And also from the UK we are delighted to welcome back the ever-popular
Tad Newton's Jazz Friends who have won many friends at the festival in the last two years with their eclectic style of jazz, their musicianship, their sense of fun…. And their shirts!
Trevor Stent
https://www.youtube.com/watch?v=j_vzUniMPWU&feature=youtu.be
Peter M Butler
Editor Jazz&Jazz
Please follow and like us: