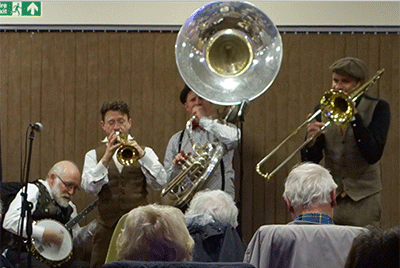 Doolalley Tap's infectious foot stomping live shows are taking the London jazz scene by storm, evoking the bold, brassy, blues infused spirit of the 1920's New Orleans Jazz Age. Jazz&Jazz has featured their gigs at Ramsgate Seaside Shuffle in recent months and now, courtesy of Tad Newton's "Jazz At The Bedford", we are delighted to present a series of Jazz&Jazz YouTubes filmed at their February Bedford Golf Club Show.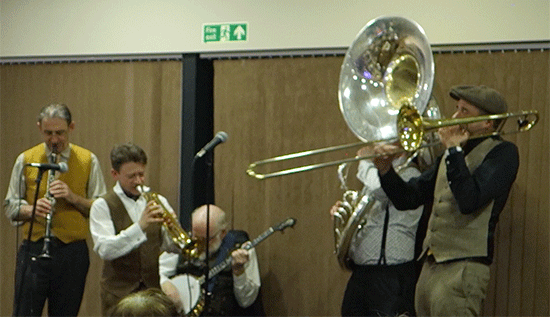 Featuring:
David Bitelli, Clarinet; Titch Walker, Trumpet/Vocals; Nick Singer, Banjo/Vocals;
Tom Briers, Sousaphone; David Lalljee, Trombone/Vocals.
With thanks to the Golf Club and Tad Newton for presenting live jazz to full houses in Bedford.
Peter M Butler
Editor Jazz&Jazz
(Photos & YouTubes © Peter M Butler, Jazz&Jazz)
Footnote: Apologies to jazz and film buffs for slight idiosycracies in some of the YouTubes.
I put it down to the charming, even magical, idiosycracies of
Doolalley Tap – perhaps hence the name!
Please follow and like us: