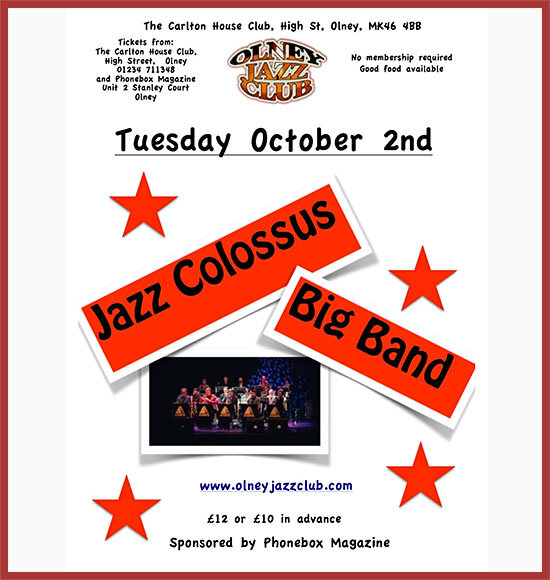 Tickets £10 in advance, £12 on the door
Olney Jazz Club
Carlton House Club, High St, Olney MK46 4BB
Tel: 01234 711348
Just a taster:
Jazz Colossus is a 20-piece big band, founded in 2014 by composer and bandleader
Miles Hancock:
"My vision for Jazz Colossus has always been to take the big band format in a slightly different direction. When many people think of big bands, they imagine an outdated band, playing a wartime setlist in an archaic format. The truth is, the big band has always been more versatile than that, and I wanted to reflect this with my vision for the band. We play a mixture of styles: jazz, funk, latin, soul as well as swing standards."
Jazz Colossus have performed at a variety of venues, events and festivals across the UK and beyond. Last year they were invited to take part in the prestigious International Big Band Competition in Hoofddorp, The Netherlands, performing alongside top big bands from across Europe and beyond.
Tickets from Phonebox Magazine, Stanley Court, Olney or the Carlton House Club,
High St, Olney MK46 4BB
Tel 01234 711348 to reserve tickets.
Why not book a table to dine…the Jazz Night Menu features 2 main courses for £12.
Coming soon
Tuesday November 6th
Tad Newton's Jazz Friends (£10/£12)
Tuesday December 4th
The Ian Bateman Band with their Kenny Ball Show (£10/£12)
Tuesday January 8th 2019
Alan's (that's me!), New Year's Jazz Bash with special guests £10/£12
So there's lots to look forward to…..hope to see you at OJC soon!
Cheers,
Alan Haughton
Jazz&Jazz is grateful to Olney Jazz Club for their reciprocal support.
Please follow and like us: