With the Paul Higgs Quartet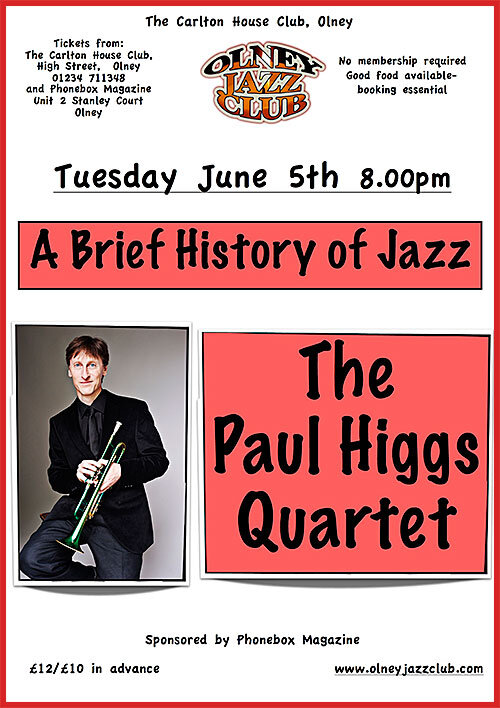 Tuesday June 5th 8.00pm
Paul Higgs is renowned as one of the UK's leading trumpet players and composers. He breezes into Olney on Tuesday June 5th with his band to to perform his show show entitled
"A Brief History of Jazz".
Blending the traditions of classical and jazz, he has the rare ability to capture the most elusive of dreams in his music, expressing subtle emotions and bold exciting energy with equal ease. Melodies soar and float, while rich harmonies create shadows and depths beneath.
Paul has had an extensive musical career in many fields including performing, composing and arranging music for film, TV and theatre. He was a Musical Director of The National Theatre and Royal Shakespeare Company for many years.
He has performed with luminaries including Sir Peter Maxwell Davis, BBC Philharmonic Orchestra, Johnny Dankworth, Lulu, Tony Hatch, John Williams, Nancy Wilson and Shorty Rodgers. Paul has also performed in major concert venues around the world, such as the Royal Festival Hall, the Schubert Theatre (USA), Berlin Concert Hall, the Royal Albert Hall and Ronnie Scott's.
Tickets (and food table bookings) are available from the Carlton House Club,
High St, Olney, MK46 4BB
Tel. 01234 711348 or Phonebox magazine at Stanley Court, Olney
£12 or £10 in advance.
Coming soon – Tuesday July 3rd
The Tina May Quartet
A welcome return to one of the UK's top vocalists, accompanied by her trio comprising
Mike Gorman (keys), Arnie Samogyi (bass) and Ronnie Fenn (drums).
Tickets available now – £12 or £10 in advance.
I look forward to seeing you at OJC soon.
Cheers,
Alan
(Alan Haughton, Organiser)
Please follow and like us: