Tuesday 6th March 8.00pm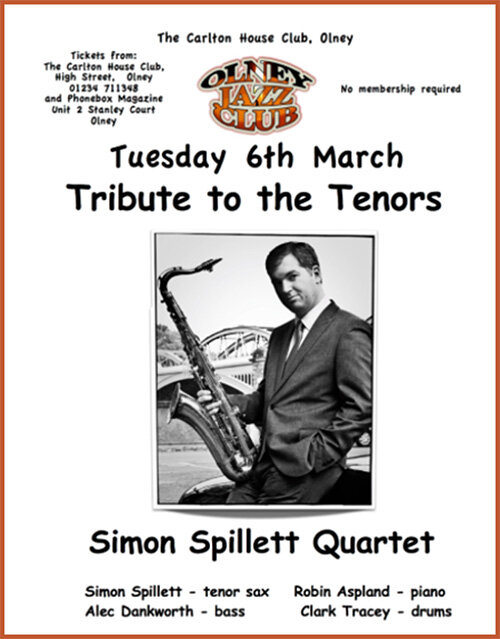 Described by the late Humphrey Lyttelton as "formidable", Simon Spillett has won several awards for his music, including the tenor saxophone category of the British Jazz Awards (2011), Jazz Journal magazine's Critic's Choice CD of the Year (2009) and Rising Star in the BBC Jazz Awards (2007). Other celebrated jazz leaders and bands with whom he has worked have included Sir John Dankworth, Stan Tracey, Peter King and The Ronnie Scott's Jazz Orchestra. He has recorded three albums, Introducing Simon Spillett (Woodville Records, 2007), Sienna Red (Woodville Records, 2008) and Square One (Gearbox Records, 2013), all of which have received highly favourable reviews in both the specialist and national press.
His festival, concert and club appearances across the UK have included sold-out gigs at Ronnie Scott's and the Brecon Jazz Festival and he has broadcast on BBC Radio 3's Jazz-Line Up with his own band. He has also worked as a writer, contributing articles to magazines including Jazz Journal and Record Collector and has acted as a consultant for a number of jazz record labels, in which capacity he has written booklet essays for over sixty albums.
"Those of us who have caught him live…have been left blinking in disbelief. It's not just his mastery of the tenor saxophone, phenomenal though that is, but the absolute conviction of his playing
that is so impressive" Dave Gelly, The Sunday Observer
The Quartet is completed by a stellar line-up of top players: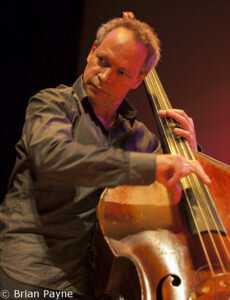 Alec Dankworth©Brian Payne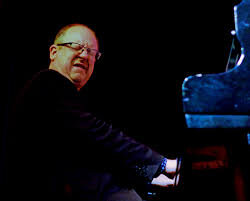 Robin Aspland©Brian O'Connor
Tickets £10 in advance or £12 on the door from the Carlton House Club, High St, Olney MK46 4BB.
Good food is available but booking is advised. Tel 01234 711348 to reserve tickets/food.
Tickets are also available from Phoneboxmagazine, Stanley Court, Olney
Coming to Olney Jazz Club Soon:
Tuesday April 3rd 8.00pm
"Embraceable Ella" with the wonderful vocalist Joanna Eden plus The Chris Ingham Quartet.
*** *** ***
Check it all out at www.olneyjazzclub.com
Hope to see you at OJC soon!
Cheers,
Alan Haughton
OJC Organiser
Please follow and like us: