Occasionally I'm moved to feature on Jazz&Jazz interludes in my life and in history other than in my involvement in jazz.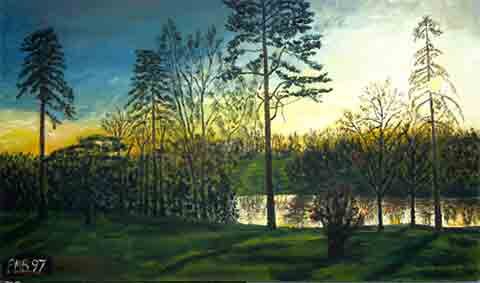 A winter's scene across the River Lea from Brocket Hall in Hertfordshire, England, home of
Lord Melbourne and Lord Palmerston, two of Queen Victoria's Prime Ministers
at the height of Empire in the 1800s.
Tonight Ginny and I have been watching the latest instalment of the TV drama about the life
and times of Queen Victoria. The scene recapturing her with her father figure and mentor,
Lord Melbourne, inspired this post, featuring my painting of the River Lea lakes across
from Brocket Hall and my poem recounting the history.
February's Sunset
February's sunset shafts across the Lea
As winter's tones decree
The mood of looming night
In times removed from Britain's might.
In Victoria's day,
When Melbourne held sway
And surveyed this same sight,
He governed an empire at its height,
Yet brooded still over his government's plight.
Oils & Acrylics, 1997
This is especially dear to me because until just three years ago, we had lived in Lemsford Village across the River Lea from Brocket Hall for 19 years. And, yes, there is the essential  jazz connection because I used to enjoy jazz with Bob Thomas and the Thomcats at
The Long & The Short Arm village pub and still return to Lemsford Village Hall
for Lemsford Jazz Club's monthly sessions.
How I miss our wonderful home at The Old Orchard across from the River Lea and the
footpath leading to Brocket Hall.
Peter M Butler
Editor & Proprietor Jazz&Jazz
Remembering Lemsford's Jazz Man Bob Thomas
Please follow and like us: