"Clare is a sought after singer throughout the country, and has been voted
British Jazz Singer of the Year three times."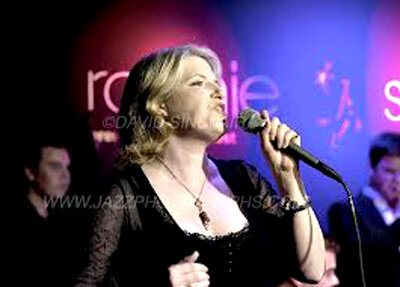 Loughton Methodist Church


260 High Road, Loughton, Essex IG10 1RB
7.45pm Thursday 14 September
Clare is one of the UK's most celebrated and much loved singers, as well as a prolific recording artist and popular BBC Radio 2 broadcaster. She has released 14 albums to public and critical acclaim. With her stunning voice, encyclopaedic knowledge of jazz, swing and big band music, and her warmth and wit, Clare is a sought after singer throughout the country, and has been voted British Jazz Singer of the Year three times.
Clare's all-star group features three other wonderful musicians:
Jason Rebello – piano. Jason has performed with a huge range of musicians. As well as performing and composing on Grammy-award winning albums he has recorded seven of his own. He is now composing and running workshops around the country as well as his own concerts.
Simon Little – bass. Simon is a graduate of Guildhall School of Music & Drama. He has played with pop group 'The Divine Comedy' since 2001, touring extensively in Europe and the US. He has toured and recorded with a variety of artists and performs regularly at the National Theatre. He has released several solo bass albums.
Ben Reynolds – drums. Ben is one of the most creative and gifted drummers in the country and is in constant demand. He has played in venues and festivals across the globe, and is as comfortable playing freeform jazz as he is backing pop artists in the studio. Ben is a founder member of the Horne Section and regularly performs with FRAUD, Joe Stilgoe and the Sam Crockatt Quartet.
This concert is one of a series during 2017 to raise funds to support the work of the
Loughton-based National Jazz Archive.
Clare said: "It's a pleasure to bring my quartet to play at Loughton to help raise funds for the
National Jazz Archive. It's a wonderful resource for everyone interested in the history and
development of jazz in this country."
The venue for the concert is Loughton Methodist Church, 260 High Road, Loughton,
Essex IG10 1RB, close to the Archive's home in Loughton Library, where there is extensive parking,
1 km from Loughton Station on the Central Line, and served by numerous bus routes.
The concert starts at 7.45pm and tickets cost £20.
For details and to book tickets, visit  www.nationaljazzarchive.org.uk/events,
email events@nationaljazzarchive.org.uk
Tel: 020 8502 4701. 
National Jazz Archive, Loughton Library, Traps Hill, Loughton, Essex IG10 1HD
Please follow and like us: