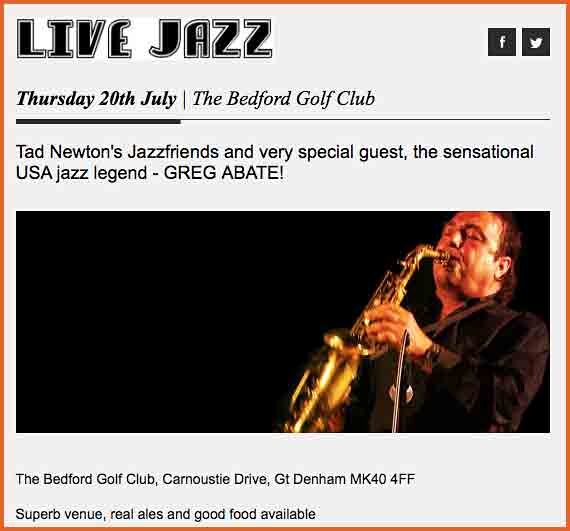 Tickets £10 in advance/£12 on door

All sessions start at  8pm

Call 01234 320022 for tickets

Call 01604 858549 for further information
Tad Newton [trombone] Frank Griffith [clarinet/sax] Alan Haughton [piano] Tomas Pedersen [bass] Ronnie Fenn [drums] Gary Wood [trumpet/flugelhorn/vocals]

Tad Newton's Jazz Friends are now established as one of the most popular groups on the UK and international jazz entertainment scene

Whilst concentrating on the jazz sounds of the 20's, 30's, 40's and 50's, the Jazz Friends do not resign themselves to re-runs of 'golden oldies' and can combine their traditional repertoire with more contemporary blues material.

The band features within its show, a flexibility of approach enabling it to spotlight delightful interludes of vocals, novelties, rhythm and blues, as well as fine solos by its respected and noted individual musicians.

The band has appeared at some of the most prestigious venues throughout the UK. They have toured extensively and have also appeared at jazz festivals on the continent.
Award winning jazz sax/flute star and recording artist from the bands of the great RAY CHARLES and ARTIE SHAW!

Greg Abate jazz saxophonist, flutist, composer continues as an International Jazz/Recording Artist with 225 days a year touring the globe.

In the mid 70's after finishing a four year program at Berklee College Of Music, Greg played lead alto for the Ray Charles Orchestra for 2 years.

In 1978 Greg formed his group Channel One which was a favorite in the New England area and from there had the opportunity to play tenor sax with the revived Artie Shaw Orchestra under leadership of Dick Johnson from 1986 to '87.

Following this experience Greg ventured out as post hard bop soloist playing Jazz Festivals, Jazz Societies and Jazz Clubs throughout the U.S. Canada and abroad, including most of Europe, UK, and Moscow and Georgia Russia.

"Greg Abate is one of the most appealing saxophonists on the scene today. He is mature with an abundance of gentle self-confidence. The result is that he plays music with sweetness and daring."

– Jim Merod, New Jazz Recordings
Peter M Butler
Editor & Proprietor Jazz&Jazz
Please follow and like us: