On the 9th June, the Tom Syson Sextet will be performing at the Quarry Theatre, Bedford, as part of their 10-date UK tour to celebrate the release of Tom's debut record 'Green'. This is the official Album Launch event, which makes it extra special. Other venues/events on the tour include the Glasgow Jazz Festival and the Manchester Jazz Festival.
Below is Tom's tour poster, a preview video for the record and a short bio for the event.
The video includes exclusive footage from the record so be sure to check it out!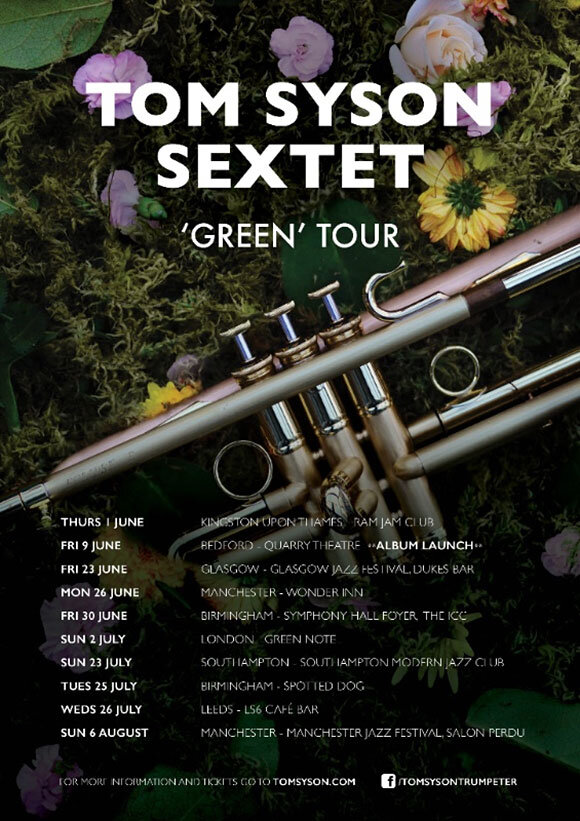 After completing a UK tour in February, 2016, the Tom Syson Sextet recorded 'Green' at Peter Gabriel's Real World Studios in August. The album was produced by Percy Pursglove and featured the JazzFm Vocalist of the Year 2016, Lauren Kinsella, on a track. It is entirely made up from original material written by Tom, with with a focus on rich melodies and a variety of exciting textures to keep audiences on their toes.
The sextet is as follows:
Tom Syson – Trumpet
Vittorio Mura – Tenor Saxophone
Ben Lee – Guitar
David Ferris – Piano
Pete Hutchison – Double Bass
Jonathan Silk – Drums
Tom Syson is a trumpeter and creative musician based in Bedfordshire. He is, 'one of the most interesting voices in the emerging generation of improvisers' and is 'happy to take risks'. He has played with musicians such as Arnie Somogyi, Alex Garnett and Jacqui Dankworth, and at venues/events such as Ronnie Scotts, Cheltenham Jazz Festival, The Barbican and The Royal Albert Hall. Tom currently plays lead trumpet in The Birmingham Jazz Orchestra, and also holds a chair in the National Youth Jazz Orchestra.
 "Tom Syson is one of the most interesting voices in the emerging generation of improvisers. His broad sphere of musical influence and exceptional instrumental facility means that he is without doubt one to watch." Percy Pursglove
"He is a very good musician and someone who really cares about the music," Jacqui Dankworth
••• ••• •••
Tickets are on sale at conscia.org priced at £10. The event starts at 8pm with doors opening at 7.30pm. Tom would love to see you at this event, which happens to be the last event in Bedford before the Conscia Jazz Festival 2017 in September.

Please follow and like us: