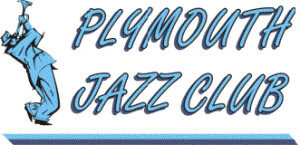 Founded 1984
Plymouth's Premier Jazz Venue
PRESENTING JAZZ
LIVE AND ALIVE
Jazz&Jazz is delighted to support Plymouth Jazz Club.
*** *** ***
Sunday, July 2nd • 7.00 for 7.30pm
Roger Marks' Mainstreamers
Roger Marks' very special quintet featuring world-class clarinettist
Julian Stringle and leading UK pianist Craig Milverton.
The Royal British Legion Club, Tailyour Road, Crownhill, Plymouth PL6 5DH
Admission £9, Members £7, Full-Time Students £5 Tickets on the door.
Tel: 01752 721179
*** *** ***
Friday, July 21st • 7.00 for 7.30pm
Jazz At Tavistock Town Hall
Graham's Gentlemen of Jazz
Featuring some of the finest traditional jazzmen in the South West.
Admission £10.00 (£12.00 for non-members). Advance booking advised.
Tickets 01752 774343 or The Book Stop, Market Street, Tavistock.
*** *** ***
Sunday, August 6th • 7.00 for 7.30pm
Karen Sharp
with the Craig Milverton Trio
Award-winning saxophonist from the late Humphrey Lyttelton's band guests with the
West Country's finest jazz trio.
The Royal British Legion Club, Tailyour Road, Crownhill, Plymouth PL6 5DH
Admission £9, Members £7, Full-Time Students £5 Tickets on the door.
Tel: 01752 721179
*** *** ***
Tuesday, August 22nd 
Riverboat Shuffle
Riverboat Shuffle August 22nd: £19.50
Book online at:
http://www.plymouthboattrips.co.uk/
Tel: 01752 253153
Or direct through the Club:
email: [email protected]

*** *** ***
Gig information and general enquiries:

(01752) 721179
email: [email protected]
Please follow and like us: