Based in Loughton Library in Essex, The National Jazz Archive holds the UK's finest collection of written, printed and visual material on jazz, blues and related music, from the 1920s to the present day. Founded in 1988 by trumpeter Digby Fairweather, the Archive's vision is to ensure that the rich tangible cultural heritage of jazz is safeguarded for future generations of enthusiasts, professionals and researchers.
In 2011 the Archive received a grant from the Heritage Lottery Fund to conserve and catalogue the collection with the focus on telling of the Story of British Jazz. As a result, many photographs, journals, documents and learning resources have been made available on the Archive's website: www.nationaljazzarchive.co.uk .
Jazz Heritage and Blue Plaques
The London Borough of Waltham Forest, situated in north east London, enthusiastically operates a Blue Plaque scheme which celebrates many aspects of local history and cultural heritage. For several years, the Archive has been working with Waltham Forest to identify the residences of jazz musician within their Borough which covers Leyton, Leytonstone, Walthamstow and Chingford.
The project began in 2013, when Waltham Forest arranged for plaques to be placed on houses previously occupied by Sir John Dankworth and clarinettist Dave Shepherd.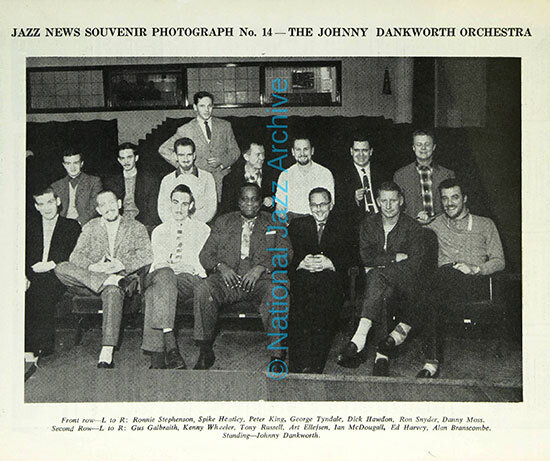 Sir John Dankworth
Sir John was one of the finest British jazz musicians and composers, whose work is known both by jazz fans and the public at large. Born in Woodford, he grew up in a family of musicians, in Highams Park, Chingford and attended Selwyn Boys' (Junior) School in Highams Park and later Sir George Monoux Grammar School in Walthamstow. Sir John spent many years touring the world, often with his wife, Dame Cleo Lane, spreading the word of just how good UK jazz was. Sir John and Dame Cleo were one of the few married couples where both partners held titles in their own right.
On the unveiling, the Archive Trustees were joined by Dame Cleo and members of the Dankworth family.
Dave Shepherd
Born in Walthamstow, Dave studied under a clarinettist from the Hamburg State Opera Orchestra while stationed in Hamburg after World War II. After demob, he joined a number of top UK jazz bands. During his long career, Dave has played with Billie Holliday, Gerry Mulligan, Teddy Wilson, Freddy Randall, another Waltham Forest resident who's Blue Plaque was installed at his house in Chingford. In later years, Dave was featured with Digby Fairweather (the founder of the National Jazz Archive), and many other renowned jazz performers. Moving to the Dorset coast in later years, Dave still played regular gigs with his All Stars including fundraisers for the Archive until his passing in December 2016.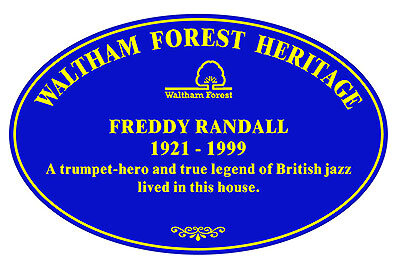 Jackie Free
In September, 2014, a plaque was placed on the house in Leyton where trombonist Jackie Free, another of Dave Shepherd's colleagues in the Freddy Randall band, spent his first 25 years and learnt the trombone at the local Boys Brigade. The Archive has the honour to hold a copy of a photograph taken in 1956 of Jackie performing with Louis Armstrong during his UK tour. Jackie's Blue Plaque contains the dedication that Louis inscribed on the photo. Jackie is still playing regular gigs and his all star band The Chicagoans are regularly featured at jazz clubs in the Epping area.
Kenny Wheeler
The sad loss of trumpeter and composer Kenny Wheeler at the end of 2014 delayed plans to unveil a plaque for him but his family gave the go-ahead for a low profile ceremony in January, 2015. Although born in Canada, Kenny moved to the UK in 1952 and made an indelible mark on Britain's jazz scene.  He lived here for over 60 years, much of this time in Leytonstone where his plaque is located.
From the 1960s onwards, Kenny played alongside Ronnie Scott, John Dankworth and Tubby Hayes, and many other top British and international musicians. In 1997, he received critical acclaim for the album Angel Song and later, he became the founding patron of the Junior Jazz programme at the Royal Academy of Music and was the focus of a year-long exhibition by the Academy Museum.
In a statement when Kenny's passing was announced, Nick Smart, Head of Jazz at the Royal Academy of Music, paid tribute and described Wheeler as "one of the great musical innovators of contemporary jazz". "Kenny was an important and much loved figure in the jazz department here at the Academy. His harmonic palette and singularly recognisable sound will live on in the memory of all who heard him and in the extraordinary legacy of recordings and compositions he leaves behind, inspiring generations to come."
Kenny Clare
Kenny Clare, was regarded by his peers as one of finest British jazz and big band drummers.  His plaque marks the fact that he was born and spent his early years in Leytonstone. Highly regarded by the likes of US drummers Buddy Rich, Kenny Clarke and Louie Bellson, Kenny began his playing career in his 1920s with the Oscar Rabin Band before joining Jack Parnell. For an extended period in the 1950s and early 1960s he was featured with both the John Dankworth and Ted Heath bands.
In 1963 Kenny began playing drums with the Kenny Clarke-Francy Boland Big Band and by 1967 he was regularly paired with Clarke in what became a two-drummer band for performances, concerts, and at least 15 recordings.
The list of singers and musicians that Kenny performed with includes some of the jazz greats of the 20th century – Ella Fitzgerald, Tony Bennett, Cleo Laine, Stephane Grappelli, Johnny Griffin, Harry James and many more. Kenny toured extensively in the UK and the US with Tony Bennett. Bennett, visiting the UK shortly after Kenny's death, attended a tribute to Kenny at a well known London jazz venue, such was his high regard for him. Kenny died in 1984.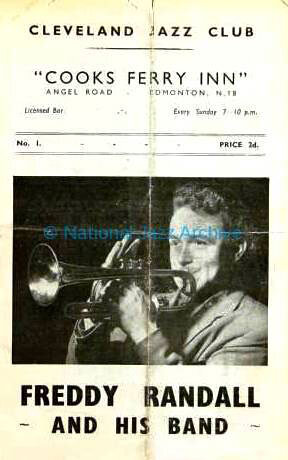 Freddy Randall
Born in Clapton in 1921, cornetist/trumpeter Freddy Randall lived in Chingford during the 1980s. Following military service in WWII, Randall joined Freddy Mirfield & His Garbage Men. The Garbage Men included the young John Dankworth and recorded for Decca in 1944. In the late 1940's – early 1950s Freddy lead his own band, featuring some of the UK's finest jazz musicians. The Freddy Randall Sunday sessions at the Cleveland Rhythm Club at the Cooks Ferry Inn, Ferry Lane, Edmonton, has earned a legendary place in British jazz history.
In 1956 Randall's was the first British post-war jazz group to tour the United States – in exchange for the Louis Armstrong All-Stars. In 1958 Randall retired to the West Country due to ill health and, after several 'come-backs', died in 1999.
At the unveiling of Freddy's plaque, the Archive Trustees were delighted to be joined by Freddy's granddaughter, Cindy along with his trombonist, Jackie Free.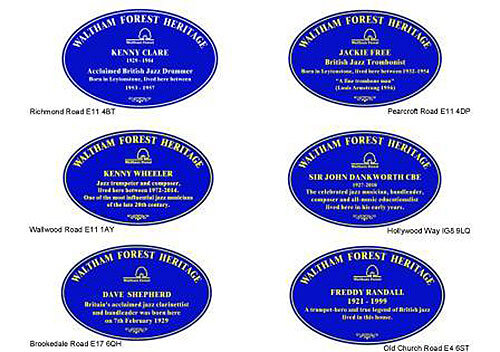 Jazz Blue Plaques – Telling The Story of British Jazz
The National Jazz Archive is delighted and privileged to join with the London Borough of Waltham Forest in recognising and celebrating these much loved jazz musicians who contributed greatly to the Story of British Jazz. The Archive hope that the story of the Jazz Blue Plaques might inspire other jazz fans to investigate their local jazz musicians.
Interestingly, there is little evidence that any of these incredible jazz musicians were aware of each other during their time living in Waltham Forest or why they all happened to live within the Borough. However, thanks to the all the information contained within the Archive, it has been possible to make links between them in later life. Both Jackie Free and Dave Shepherd featured with Freddy Randall during the 1960's. As for Kenny Wheeler and Kenny Clare, they were both members of the John Dankworth Orchestra in the same decade.
All images shown are from the National Jazz Archive.
Mike Rose
National Jazz Archive
Web: www.nationaljazzarchive.co.uk
Facebook: https://www.facebook.com/nationaljazzarchive
Twitter: @JazzArchive
Please follow and like us: