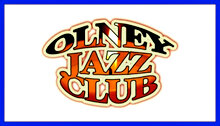 Time to book tickets for the March, April and May Club Nights!
Call: 01234 711348 without delay.
Tuesday March 1st
"Jazz at the Movies"
With the Jazz at the Movies Band featuring Joanna Eden (vocals), Mark Crooks (reeds), Chris Ingham (piano), Rev. Andrew Brown (bass) and George Double (drums) …..top show, played Ronnie's at Christmas….. £12/£10 in advance…..www.jazzatthemovies.com
"Great songs, great films, great band, great singer…one of the finest vocal albums I've heard for quite a while" BEBOP SPOKEN HERE
"Movie songs like these provide good material for the best jazz singers. Joanna Eden and her
first-class band had a ball with them, so did the audience." JAZZ JOURNAL
JAZZ AT THE MOVIES is a unique jazz group formed specifically to interpret movie themes and soundtrack songs taken from a wide-range of silver screen sources both familiar and obscure. Their refined dramatic and jazz sensibilities produce sounds that celebrate the meeting point of songcraft and swingcraft. With a reputation for vibrant music, deep repertoire and droll presentation, JATM have become a regular sell-out at Ronnie Scott's, St James Theatre, the Royal Albert Hall's Elgar Room and many jazz clubs, theatres and Arts Centres throughout the UK.
JATM features evocative vocals by acclaimed singer and mentor/teacher to pop sensation Sam Smith, JOANNA EDEN; bewitching saxophone and clarinet from star reedsman of the John Wilson Orchestra MARK CROOKS. Plus atmospheric textures and grooves from  CHRIS INGHAM (piano), REV. ANDREW BROWN (bass) and GEORGE DOUBLE (drums).
Tickets – £12/£10 in advance
Nearly SOLD OUT (Phonebox Magazine has a few left) – please email OJC to go on the returns list.
Tuesday April 5th
The New Orleans Z'hulus
Presenting The New Orleans Z'hulus – a great band hailing The Continent with sublime renditions of New Orleans Jazz. Plus a welcome return for Brian Turnock (Leader, Bass) and Jesper Larson (clt), members of Doc Hound's Revival Jazz Band who starred at Olney in October last year!
£10/£8 in advance
Tuesday May 3rd
The Krupa Connection
Formerly Three Men on Third, featuring the music of the Gene Krupa Trio …. Richard Exall (clarinet/sax), Alan Haughton (piano) and John Watson (drums)….£10/£8 in advance
All tickets are great value and you can get them from Phonebox Magazine, Stanley Court, Olney or the Carlton House Club, High St, Olney, 01234 711348,  (don't forget to book separately if you would like to eat).
Check it all out at www.olneyjazzclub.com
Hoping to see you at the next OJC gig,
Cheers,
Alan
Olney Jazz Club
www.olneyjazzclub.com
[email protected]
Photos © Peter M Butler, Jazz&Jazz
Please follow and like us: