Years ago Dr Grace Clements came to my rescue in my crazy college days when I pitched out of a top bunk and fractured bones in my hand. She patched me up brilliantly. Just last year Grace (now surname McKee) and I caught up with each other through a College Reunion and I discovered her new found talent as an artist. I'll let Grace tell her story.
"I started painting about eight years ago. In a way art is related to my former career as a cytopathologist – looking at beautifully-coloured cells down a microscope! I have always loved drawing so painting seemed to be the next step. My favourite medium is oil although I do play with watercolours as well. I enjoy painting still life, landscapes, portraits and figurative work. If what I see is beautiful I have to paint it!  I am really excited about being shortlisted for the Wildlife Artist of the Year and having my bison painting exhibited at the Mall Galleries in London at the end of the month."
Grace has since taken an interest in Alan Bateman's and my jazz portraits featured on Jazz&Jazz. So I "challenged" her to join us and paint a jazz portrait herself.
She chose Nina Simone, singer, songwriter, pianist and star of jazz, blues, folk, R&B, gospel and pop. Upon seeing the portrait I suggested her next subject should be Ella Fitzgerald. She has already sent me the work in progress. It's good!
Peter M Butler
Editor & Proprietor Jazz&Jazz
PS Congratulations, Grace, on being shortlisted for Wildlife Artist of the Year. I got very close in to a Wildlife Artist award once upon a time: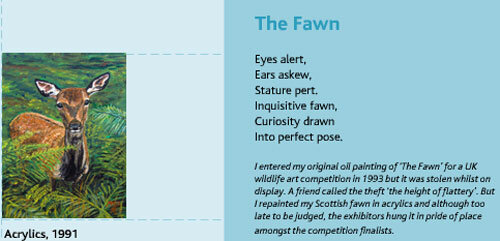 Please follow and like us: