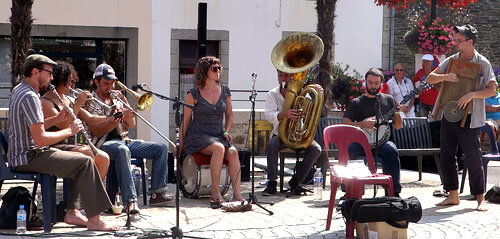 I promised more Tuba Skinny at Fest Jazz, Chateauneuf-du-Faou and here is my first YouTube instalment. I won't waste words other than to say the festival was brilliant and Tuba Skinny were something very special. As also were Joan Chamorro's Sant Andreu Youth Jazz Band.
More YouTubes of both bands to follow. And of the other great bands who kept fans on their toes.
Thank you, Trevor Stent and Anneke Laurens for such a phenomenal Tenth Anniversary show.
 So here it is: Tuba Skinny and  "Sweet Lovin Old Soul"
If you want to see Tuba Skinny touring the UK, say so in the Comment Box below.
The more "Yeses" the  sooner the possibilities of arranging it.
Photos & YouTubes © Peter M Butler, Jazz&Jazz
Please follow and like us: