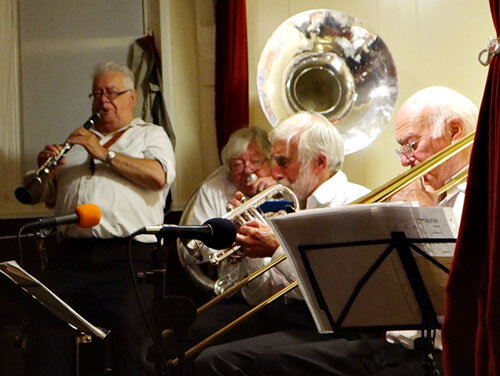 True to their New Orleans style, The Frog Islanders got Ramsgate Seaside Shuffle's 2014 Festival off to a rip roaring start on the evening of Friday, 11th July. The hall was packed making filming the full band difficult. So in the YouTube below I focused on the brass conclave: Graham Reed (tuba), John Whitehead (trumpet), John Jeans (trombone) plus
Jimmy Hurd on clarinet.
Pure, rhythmic New Orleans music that got the festival off to a flying start.
Photos & YouTubes © Peter M Butler, Jazz&Jazz
Hit this link to listen to KASPAAR Sound Recording Specialist's excellent recording of
Frog Island's session at Seaside Shuffle Festival.
http://kaspaar.info/seaside-shuffle.htm
kaspaar.info
Please follow and like us: